IT'S taken nearly four hours, I've added considerably to the number of grey hairs on my head with stress, but finally I have enough charge in my Jaguar iPace to continue the last 80 miles of my journey.
It all started so well. The Car Dealer team is heading to Wales for the annual Road Test of the Year (#RTOTY18) pilgrimage to the land of good roads with 'Araf' written on them.
I was handed the keys to Jaguar's latest electric car, chosen by the team because it's one of our favourite models to have arrived in showrooms in the past 12 months.

I'd been driving it for a few days and was enamoured with its rapid turn of speed, addicted to its continuous wave of torque and in love with its cool tech. I even went as far as to say I'd buy one.
This thing is incredible. An absolute game changer. Superb to drive, looks cool, decent range, smart tech and you can fit a seven-year-old who won't stop talking in the front boot. Perfect. Where do I sign? #RTOTY18 pic.twitter.com/ZO0zln3u0x

— James Baggott (@CarDealerEd) September 8, 2018
But then the UK's charging infrastructure let it down.
Let me explain. I fully charged the Jag overnight using my home charging point – a Chargemaster 7kw unit – which topped it up 50 per cent in around seven hours.
With a full battery and 210 miles of range I set off, planning one charge around the mid-point of the 250-mile journey to Bala in north Wales.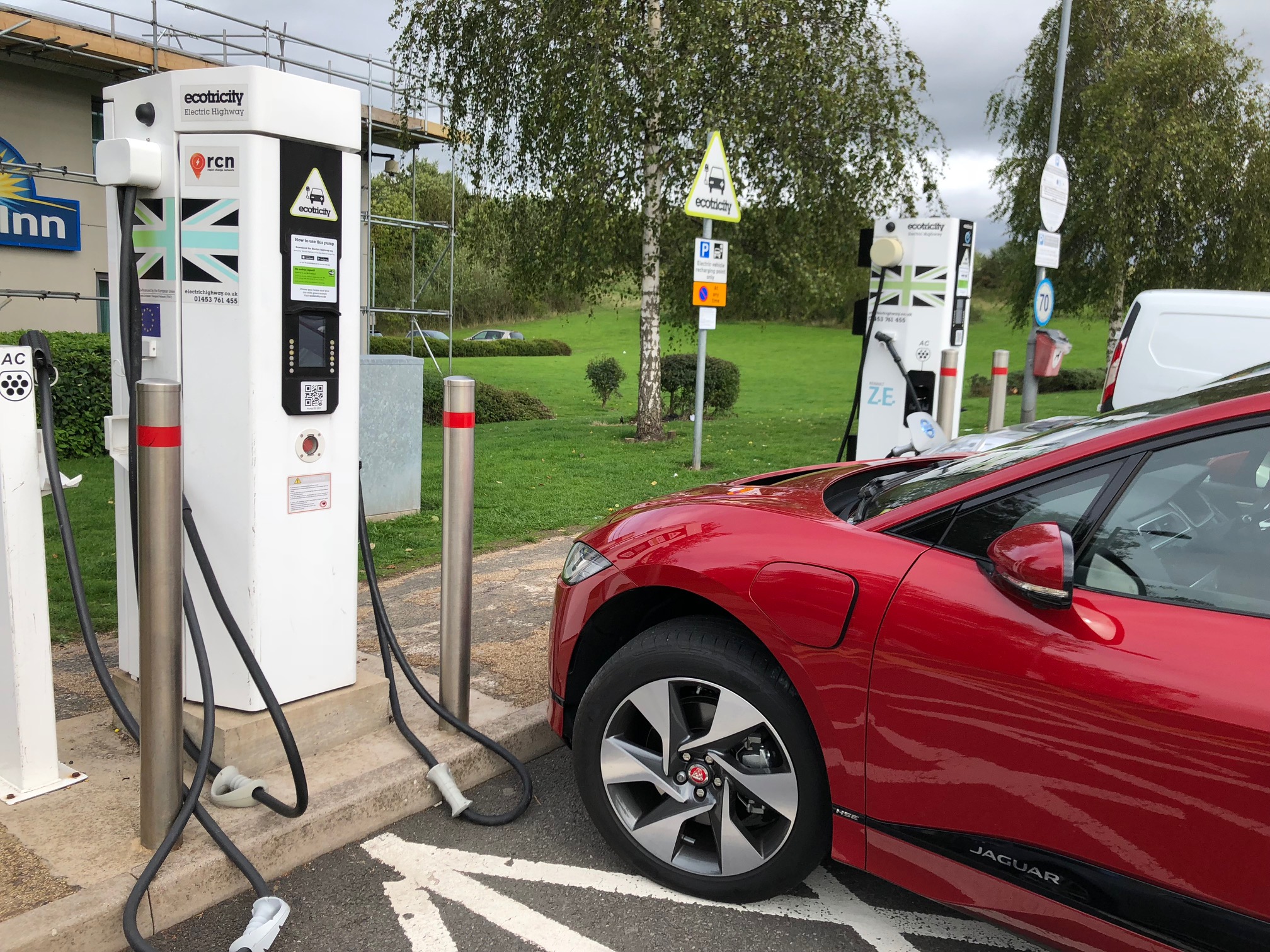 That mid-way charge was scheduled for the Roadchef services on the M6 Toll, near Cannock. But when I arrived, the queue of EVs circulating the two charging points didn't bode well.
One of the charging points was broken. What could possibly go wrong with a plug, a cable and, er, that's about it, is beyond me, but it was still faulty.
That left one working charger and two Nissan Leafs ahead of me. Each car needed a full 45-minute charge – putting me in third place and an hour and a half down the list.
And this is where electric cars fail. Two chargers. One broken. Three cars waiting to charge. All empty. 45 minutes each needed to charge. The system DOES NOT WORK. Love the car, hate the infrastructure #RTOTY18 pic.twitter.com/CMmECAINeB

— James Baggott (@CarDealerEd) September 9, 2018
Now, let's face it, no one wants to spend more than 15 minutes in a service station. They smell, they're expensive, they smell, they're full of people who are trying desperately to leave, they smell, and they have so many tempting fast food outlets that an hour's stint is enough to give a healthy man a serious cholesterol problem.
But wait I did.
The first Nissan Leaf owner went the full distance on his charge – despite being over 90 per cent for the last 15 minutes he was plugged in. You'd think knowing there were others waiting to charge would mean he'd feel a bit awkward, but it didn't seem to bother him.
The second Leaf owner had 22 per cent remaining so needed the full 45-minute allotted charging time too, so I sat there tweeting angrily about charging points while I waited.
So that's one of the Leafs charged. 45 minutes and counting sat here. Now the second one is starting its 45 minute charge. And that's all before the Jaguar iPace has been plugged in to start its own. Imagine an hour and half wait to start to fuel your car at Shell? #RTOTY18 pic.twitter.com/L3927EP9zp

— James Baggott (@CarDealerEd) September 9, 2018
While waiting, a BMW i3 owner turned up. I explained to her the problem and she cursed: 'This ALWAYS happens,' she moaned. 'And always with Ecotricity points.'
Some 90 minutes after I first pulled in I finally managed to plug the iPace in and I walked off to get some food. Checking the Ecotricity App 15 minutes later, I could see just a few pence worth of charge had trickled into the batteries.
Finally plugged the Jaguar in. Now another 45 minutes to wait. On top of the hour and a half I've languished at this shit Road Chef. Oh and I've just realised l'll probably get charged for parking as I've been waiting here so long. It's THE FUTURE! pic.twitter.com/BeABmbU592

— James Baggott (@CarDealerEd) September 9, 2018
I went back to check what was going on – surely this wasn't right? Apparently the charger I was using wasn't a rapid one – the Ecotricity rapid charging cables are only compatible with Leafs, so I'd wasted my time. Yes, maybe I should have investigated further which chargers do what – but forgive me for thinking it would be simple.
In the 20 minutes I had been plugged in I'd increased my range from 10 to just 14 miles. That was enough to get me to a Polar charging point I'd located a few miles down the road in a Holiday Inn car park.
I wish I'd gone there in the first place. As I pulled out to leave the Roadchef I realised I'd overstayed my two hours of free parking, so went back in to pay for the half an hour I'd gone over.
'That'll be £12.85 please,' smiled the girl behind the till. I told her I only wanted half an hour, but she said I could stay all night if I wanted to.
ALL NIGHT? Here? I'd rather be in prison.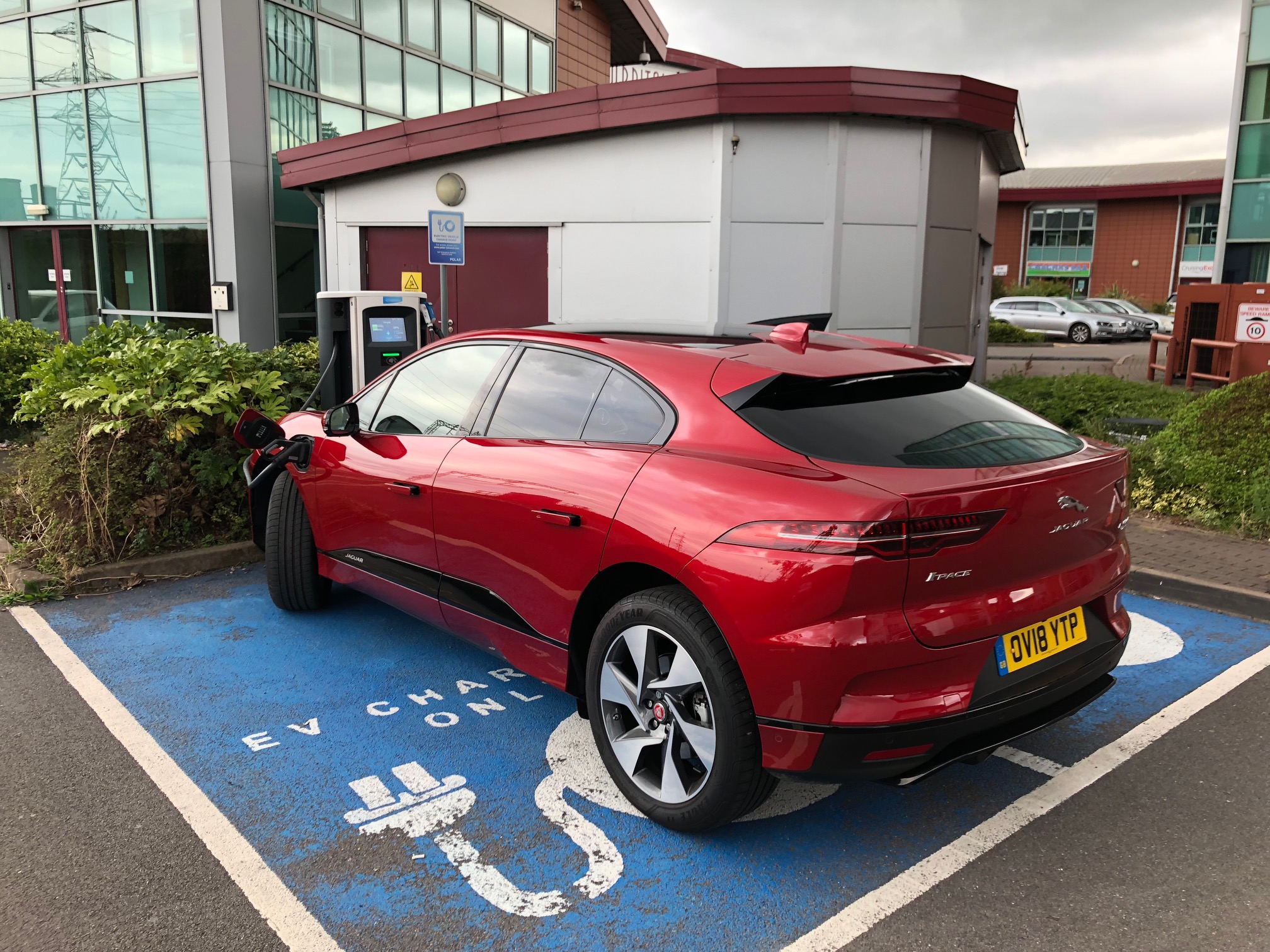 The Polar charging point, situated with a panoramic view of the Holiday Inn bins, wasn't being used and had the fast charging cable I so desperately needed. I plugged in and began another wait. I was getting good at waits.
An hour later and I was back on the road – the 67 per cent charge and 130 miles of range it had added cost me £12.
Add the £13 for parking at the service station and this was turning out to be an incredibly expensive 130-mile top-up. I thought EVs were supposed to save you money?
Nearly FOUR hours after I first tried to charge the iPace I'm off again to continue the last 80 miles of the journey. The polar point was far better. But the whole system is too complicated and clunky pic.twitter.com/zrn61ttd9s

— James Baggott (@CarDealerEd) September 9, 2018
This isn't the first time a brilliant electric car has been let down by a charging network that is simply not fit for purpose. Earlier this year, I had exactly the same issue with a Nissan Leaf.
I love electric cars. This iPace, like the Leaf before it, is brilliant to drive. But they're just desperately let down by a network of chargers that simply isn't good enough.
Would you wait two hours behind two cars to fill your car up with petrol or diesel? No, of course you wouldn't. It simply isn't on.
And these problems exist with just a few electric cars on the road. Imagine what it'll be like when they get popular? The iPace deserves to be successful – but I can only see these problems, at poorly maintained charging points where there simply isn't enough capacity to cope with the demand, getting even worse.
Say what you like about Tesla, at least it has put in place a usable and workable charging network. Its cars may be expensive and not that well built, but at least you can charge on the go, plus their cars tell you where the charging points are and if they're being used.
Let's just hope we can charge the iPace up somewhere near our Bala RTOTY18 base camp… tune in tomorrow to find out.
You can follow our Road Test of the Year adventure on Twitter and Instagram – just search for the hashtag #RTOTY18. Tomorrow we'll be revealing our line-up of cars in full.