SEAT dealerships around the country are undergoing a complete refurbishment – the first freshening-up of the CI for 14 years.
We caught up with Seat UK director Neil Williamson in Geneva, and he was excited about the rebranding programme.
And he said the manufacturer would be helping out with the cost.

He told us: 'In the UK, we are just embarking on a complete refresh of our dealers' look and feel, our corporate identity – we haven't changed it for 14 years, and if I'm honest, some are looking a little bit tired.
'I'm not saying they're not in good condition, just that they are a bit dated – if you have a 14-year-old kitchen, it's going to look a bit ordinary. The new look is very white, it's very red, very Mediterranean colours, and the exterior is very different.
'I went to the second new one the other week, JCT600 in Bradford, a brand-new refurbishment of that business, and it looks amazing – it's clean, it's white, it's sharp, it feels warm inside, and the people who work there love it. At the launch event, the customers loved it. It matches the cars – the cars are great, up to the minute, really stylish.
'I used to be a car dealer, so I know what it's like running car businesses at the sharp end, and when you refurbish, immediately your staff feel better about themselves – they feel as if there's a future, that the business is investing in them, they have a nicer working environment, their colleagues feel better about themselves. They're more on their toes, feel sharper about life, and guess what – they sell more cars. They're better at servicing cars.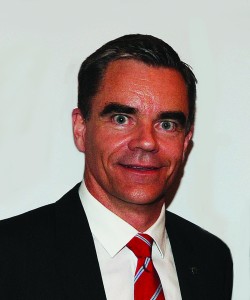 'Customers come in and say "ooh, it's nice here, the coffee's better, the chairs are better" and they feel better about life, and all those aspects work off each other. You see an increase in customer satisfaction scores, and an increase in all the classic KPIs – it just feels a better place to be.
'It seems crazy, you'll spend a bit of money on bricks and mortar and nice desks, but it pays back, and pays back quickly – you get an immediate win out of it.
'We're helping dealers with the cost. We're a brand with a certain cloth to cut. The average cost per site is about £70,000 for a full refurb, and we're paying half of that, which is really quite generous. We're being sensible about it – ask the dealers, they'll tell you what they think. After I announced this, I was sitting next to a dealer and he was straight on the phone and telling his people he wanted all five of his sites done now.
'We're less on the hi-tech side, like Audi and our sister brands which are right up there, we're more traditional but very sharp.'
Read Neil Williamson's views on the future of Seat – and their plans for SUVs – in the next edition of Car Dealer Magazine.
MORE: MG starts search for 30 new dealers
On superunleaded.com – Six Cars You Could Buy Instead Of An Apple Watch