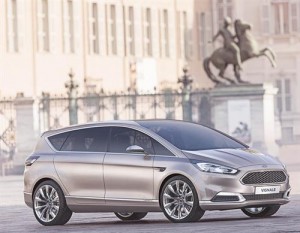 FORD has revealed its latest concept, the S-Max Vignale – but the big news is that the posh Vignale name will sweep in a new customer experience for Ford buyers.
Vignale customers will be given a personalised experience, with a dedicated relationship manager as the single point of contact throughout as well as VIP collection and delivery services.
Ford will also be introducing 'Vignale Lounges' in selected dealerships. These will offer what Ford is calling 'stimulated, secluded environments to sample exclusive materials and colours.'

It has said that half of its large cars are sold in a high series specification and 10 – 15 per cent want an even higher level of specification and customer service.
Research by the car company has also found that premium car buyers consider high levels of customer service a key difference between a mainstream and upmarket experience.
Sales staff competence and efficiency were found to be the two biggest influencers of customer satisfaction while showroom appearance and quality of hospitality were two of the top factors that influence customer expectations of a brand.
Roelant de Waard, vice president of marketing, sales and service for Ford of Europe, said: 'We know that many customers are looking for a Ford that's more exclusive and upscale than we currently offer in Europe.

'The other key trend is the desire for a more memorable and personalised ownership experience that is tailored to individuals and respects their time. Vignale will meet these needs in a fresh way.'
The new Mondeo is set to arrive later this year followed by the Vignale version in early 2015 and an S-Max Vignale at a later date.