The 2019/20 season of the Close Brothers Motor Finance/Car Dealer Go-Karting Challenge started last night with a tricky qualifier at TeamSport Karting's dual-level track in Stockton-on-Tees – a new track for a new season. Blackball Media's Andy Entwistle reports on the action…
TWELVE teams battled to be the winners in this season's first qualifier and the warm-up session was littered with yellow flags and spinning karts as the drivers got to grips with the very slippy surface.
While this was a challenge for the drivers, it made for some great spectator viewing – particularly on the lower level, where the change in surface to concrete made it more akin to driving on ice!

The race was a 90-minute endurance comprising teams of four and each team driver had to take to the kart at least once.
Representatives from the north-east automotive industry included teams from Redgate Lodge, BV Vehicles, Blackshaws and Tees Valley Mitsubishi, all supported by the Close Brothers Motor Finance team. However, in among the famous names from the car sales world, the Blackshaws team brought along a bit of a ringer, Paul Swift, plus me.
It's all a bit of fun, right? Wrong… Within a few minutes of practice, teams were seen huddled together and talking strategy. We decided to put me in first, leaving our star players Will Blackshaw and stunt driver Paul Swift until the end. However, the random nature of allocating karts on the start grid threw up a stroke of luck: we were on pole!
Immediately, heads were thrown back together… We decided to make the most of the situation and put Paul on first.

Lights off and he flew off the line, pulling away from the pack. However, two spins on the slippery surface from DS Motors/Redpath & McLean and MMC Specialist Cars saw the yellow flags come out. After this, Paul started to pull out a healthy lead, but the rest of the pack wasn't giving up and Tees Valley Mitsubishi started to work their way through in hot pursuit.
After 25 minutes, Paul had a terrific lead, having lapped all but two cars, with team badges 18 and 14 in hot pursuit. The pit was now busy with driver changes and it was time for me to take over from Paul.
We executed a great changeover and I managed to retain position for the team, which I was pretty chuffed about. We were now one lap up on all other karts, with Mountsett Garage/Owlet Car Sales (18) hot on our tails. I came in for the driver change at the same time as them, and luckily we effected a pretty good changeover, coming out in front of a fast-improving Tees Valley, who split us from kart 18.
The latest round of changes saw very quick drives from Tees Valley Mitsubishi (11) and G3 Vehicle Auctions (10), who started to hunt down our driver, Gordon Saunders.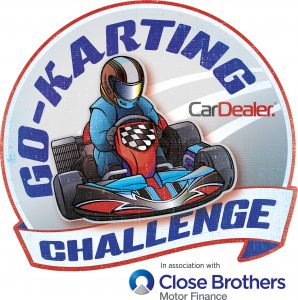 He eventually handed over to Will Blackshaw for the last 30 minutes and we still had a healthy lead of 1.5 laps, which Will just needed to maintain. But this being Will, he was having none of it, heading out and battling with Team MMC Specialist Cars who, despite four visits to the pits, were still battling to improve their position. The fight kept disappearing downstairs and leaving the team holding their breath to see who would come up the ramp in front.
However, with our team looking like certain winners, shenanigans started, with another team wandering up and asking us if we had team 6's board. They intended to call Will in for a phantom stop to try to scupper our chances. A few seconds of panic later, we found our board, which Paul had actually grabbed and stood on so no one would grab it!
Team Blackshaws crossed the line first for a great win, followed by Mountsett Garage/Owlet Car Sales. Both of them are now through to the final in March. G3 Vehicle Auctions made a credible third, with Tees Valley Mitsubishi putting in a very impressive and amazing fastest lap of 52.785 against a best venue lap of 44.3.
The night was great fun for everyone, with pizza and drink provided for the teams and a lot of dealers catching up socially for the first time this year,
Tonight sees the second qualifier taking place at TeamSport Karting's Manchester Trafford Park, and if you fancy your chances at the remaining three rounds – Reading on November 13, Harlow on January 16 and Cardiff on February 6 – get yourself registered by emailing us at [email protected]. Thanks to Close Brothers' support, it's free to take part!
Here's what you need to know about the racing…
What time does the racing start?
Teams need to arrive at the venue before 7pm. Free parking is available. Before the race begins at 8pm, there's a mandatory drivers' briefing plus a 15-minute practice session, which will get you used to the layout, kart and pit stops.
Who can drive?
Every driver in your team needs to be in the motor trade – no professional racing drivers will be allowed to race, nor any non-motor traders. If you're unable to put together a team of four from your staff, you can combine with other local dealers. As long as they work in the motor trade, they can be part of your team.
Will I need any gear?
No. TeamSport provides helmets, race suits and gloves at each track, so there's no need to buy any gear you don't have.
Are there prizes?
Yes! There will be a podium ceremony at each regional round and a trophy for the winning finalist.
How do I sign up?
Any dealership in the relevant region can apply to enter the qualifiers by emailing us at [email protected]. Applications will be drawn out of a hat and you'll be informed if your entry has been successful.
The grand final will be held at TeamSport Karting's Leicester track on March 4.
MORE: Roar-some! The fantastic Car Dealer Magazine Go-Karting Challenge is back!
MORE: Your Best Car takes top honours at our Go-Karting Challenge final!