IT WAS a massive hit first time round and now it's back! Yes, get ready to don your racing gear for the great Car Dealer Go-Karting Challenge!
This terrific and free-to-enter event – made possible once again by the sponsorship of Close Brothers Motor Finance – sees dealerships competing in 90-minute endurance races at fantastic indoor tracks operated by TeamSport Karting for a place in the final.
We were inundated with requests to take part in the inaugural challenge, so the good news is that this year we've added a qualifying round to enable more of you to join in the fun!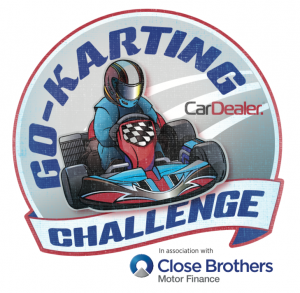 Twelve teams of four drivers compete in each regional qualifier, and the fun will start on Wednesday, October 16 with the first round at TeamSport's Stockton-on-Tees venue.
It continues the next day – Thursday, October 17 – at the Manchester Trafford Park track, and there will then be one more round this year – in Reading on Wednesday, November 13 – before there's a pause and things rev up again in the new year at Harlow on Thursday, January 16.
The fifth and final qualifier takes place in Cardiff on Thursday, February 6, with the grand final being held in Leicester on Wednesday, March 4.
At each qualifier, the top two teams (and a couple of other top performers) will be awarded a place on the grid in the grand final.

Here's what you need to know to take part…
Questions and answers
What time does the racing start?
Teams will need to arrive at the venue before 7pm. Free parking is available at every track. Before the race begins at 8pm, there's a mandatory drivers' briefing plus a 15-minute practice session, which will get you used to the layout, kart and pit stops.
Who can drive?
Every driver in your team needs to be a part of the motor trade – no professional racing drivers will be allowed to race, nor any non-motor traders. If you're unable to put together a team of four from your staff, you can combine with other local dealers. As long as they work in the motor trade, they can be part of your team!
Will I need any gear?
No. TeamSport provides helmets, race suits and gloves at each track, so there's no need to buy any gear you don't have.
Can I take part in any qualifying round?
No. You can only apply to take part in the regional round closest to you. Multiple applications will be deleted.
Will there be prizes?
Yes! There will be a podium ceremony at each regional round and a trophy for the winning finalist next year.
How do I sign up?
Any dealership can apply to enter this spectacular free event by emailing us at [email protected] – please put 'Go-Karting Challenge' as the subject line. The names of teams will be drawn out of a hat at random for each qualifier and you'll be informed if your entry has been successful.
How long do we have to sign up?
The Stockton and Manchester heats will soon be upon us, so get your applications for those two qualifiers in asap if you'd like to join in the action there. The deadline for the Reading round is Friday, October 4, while Harlow's cut-off is Friday, December 6 and those wanting to compete in Cardiff must apply by Monday, December 23.
Amanda Philp, events manager at Car Dealer Magazine publisher Blackball Media, said: 'Everyone had amazing fun on the first go-karting challenge and such was its appeal that we had loads of requests to hold it again, so we're delighted to be bringing it back, thanks to Close Brothers Motor Finance.
'In fact, it proved so popular that to cater for the demand this time round we've increased the number of regional qualifiers.
'It promises to be another spectacular event and we can't wait for it to get under way!'
Pictured at top: Competitors race round the track at the Bristol qualifier in February this year during the inaugural challenge
MORE: Your Best Car takes top honours at Car Dealer Go-Karting Challenge
MORE: Read the ace August edition of Car Dealer Magazine online for just £1.99!
MORE: You could be a winner at the party of the year – the Car Dealer Used Car Awards!