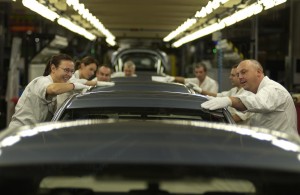 CAR production in the UK dropped in volume by 6.3 per cent in March this year – the first significant drop since September last year. 
The figures come despite a rise in new car sales in the UK last month – up 5.9 per cent across the industry. The SMMT points to both an early Easter – causing factory downtime through bank holidays – and weak European car demand for the drop in production.
The latter is likely to be the more significant cause – backed up by drops in export volume of 8.2 per cent in the month.

Even demand for cars produced for our home market has flattened somewhat. With a rise of just 1.5 per cent in the number of UK-produced cars destined for our forecourts, it appears that the sort of drastic demand experienced in the last six months may be easing.
By comparison, the same figures in February were subject to a 39.7 per cent rise, while January's saw a 26.1 per cent increase.
'Car output fell 2% in Q1 2013 as UK vehicle manufacturers continue to grapple with weak demand in Europe,' commented Mike Baunton, the SMMT's interim chief executive.
'Other factors such as extended facility holidays during the Easter period may have also impacted production volumes in March, during which output declined 6%.

'Despite ongoing difficult market conditions, UK automotive manufacturing is expected to grow overall in 2013 and beyond, fuelled by significant investment from global automotive companies.'
Commercial vehicles saw a similar drop – export volumes down 37.5 per cent – while engines destined for export dropped 12.7 per cent too. UK-destined CVs were up 9.8 per cent against last year, however, while engines rose 7.4 per cent.