SSANGYONG and and Infiniti UK have subscribed to Motor Codes' New Car Code of Practice.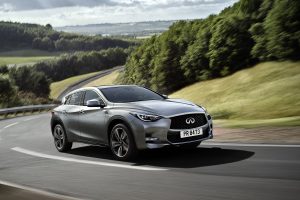 This brings the total number of car brands that have voluntarily joined the code to 39, meaning that an impressive 99 per cent of all new vehicles sold across the UK are covered by the comprehensive guide of best practice.
Introduced in 2004, the New Car Code was the first code for the automotive sector to gain approval by the former Office of Fair Trading. Now endorsed by the Chartered Trading Standards Institute (CTSI), it is designed to ensure that manufacturers supply new cars and warranties to consumers responsibly.

By signing up to the code, manufacturers promise that new car buyers will not be misled by adverts, will provide documentation that is easy to understand and that the terms of the warranty will be respected if the car is serviced according to the recommended guidelines.
They also promise that replacement parts and accessories supplied to dealers are of satisfactory quality, and any complaints will be handled swiftly.
With the recent introduction of Alternative Dispute Resolution (ADR) legislation, manufacturers must equally ensure that there is a cost-effective mechanism in place to review a dispute quickly should one arise.
Motor Codes, a CTSI-certified ADR provider, supplies a free advice and conciliation service for vehicle owners who are unable to resolve the issue directly. In the last decade, hundreds of claims have been settled by Motor Codes, saving thousands of pounds in arbitration and legal fees.

Bill Fennell, MD of Motor Codes, said: 'We are delighted that SsangYong and Infiniti UK have signed up to the New Car Code. Motorists purchasing new vehicles from both of these brands will now have the added peace of mind that they are operating according to best practice.
'This is coupled with the comfort of someone to turn to in the unlikely event that a problem arises after they have taken delivery of their pride and joy.'
MORE: Hexagon raises £67,000 at Le Mans charity evening
MORE: A gym, spa and first-class lounge: Poole launches state-of-the-art Audi 'terminal' in the UK
MORE: Hospice to replicate successful fundraising venture with Bristol Street Motors
On SuperUnleaded.com: YouTuber Scrambles Egg On Lamborghini Engine, We Wonder Why Bother