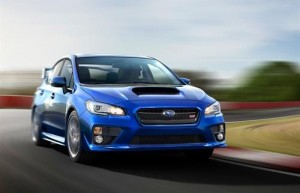 LESS than one year after the last WRX STi was sold in the UK, Subaru has confirmed the all-new version of its iconic model will return to our shores this summer.
As a result of the recent movements in exchange rates, the new model will be priced at £28,995 when it hits the showrooms in May – £4,000 cheaper than its predecessor.
Following its launch at the Detroit motor show this week, the new WRX STI is based on the new WRX saloon car but with a number of enhancements.

Subaru has ensured that the new WRX STI is the pinnacle of the brand's AWD sports performance range and features a 2.5-litre turbocharged Boxer four-pot engine, capable of producing 305bhp and 393 Nm of torque.
The original six-speed manual gearbox has been modified and now adopts a shorter throw and slicker gear changes, and Subaru's trademark Symmetrical All-Wheel Drive now has Active Torque Vectoring for maximum control.
UK buyers can expect a comprehensive standard spec, with changes over the standard WRX including a large signature rear spoiler along with larger and lighter 18-inch alloy wheels.
This week, Subaru UK will launch a dedicated area of its website for prospective owners to register their interest.

Paul Tunnicliffe, Subaru UK managing director said: 'We wanted to acknowledge the following the WRX STI has, and while both the market and the brand in the UK has changed in recent years, the WRX STI remains a demonstration of Subaru's technical know-how.
'The new model will only be available in limited numbers when it goes on sale in summer. Nevertheless we were keen to give our performance car fans the opportunity to try it here for themselves.'