MCLAREN Automotive is committed to manufacturing its supercars in the UK – despite the Brexit uncertainty circling the automotive industry.
The British supercar manufacturer – which has launched its new 720S supercar at the Geneva Motor Show – believes being British, and building in Britain, is 'absolutely core' to its DNA.
Many manufacturers that build cars in the UK have refused to commit to production here until trade deals with the rest of the world are put in place by the government.

However, McLaren, which builds its cars – 90 per cent of which are exported – at its Woking headquarters, won't be changing its plans any time soon.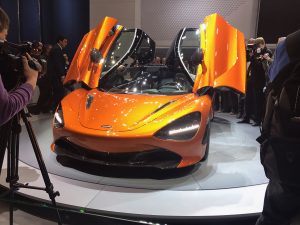 Jolyon Nash, McLaren executive director of global sales and marketing, said: 'We are a British company and our intention is to always build our cars in Britain and I do not see a future where that won't be the case.
'Our business plans remain relatively unchanged. We have a neutral stance on Brexit. What we want now is certainty – businesses can plan around certainty, whatever that looks like, and that's what we want.'
Nash added that the supercar maker was hoping trade agreements could be agreed quickly.

'Personally, I think the European Union would be shooting itself in the foot if it were not to give us a good deal, such is the size of our car industry,' he added.
'We are relatively hopeful the government will get a decent deal. For us, though, nothing changes – we are an exporter and we are not changing any of our plans any time soon. I can't ever envisage any circumstances that would see us manufacturing in any other country.
'In fact, we have recently invested further in the UK with our carbon fibre facility in Sheffield – and that, if anything, shows our commitment to remaining in the UK.'
MORE: Performance hybrid Alfa Romeos are on the way
MORE: Geneva: All the new car reveals that matter
MORE: Aston Martin hypercar takes its name from the gods
On SuperUnleaded.com: Top Gear Purrs Into Life With New Series