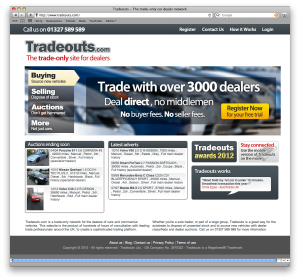 TRADE-TO-TRADE used car network Tradeouts.com has increased its bidding audience and lowered dealing costs by launching a new smartphone and tablet app of its online vehicle auction service.
The app is free to regular customers and allows dealers with smartphones and tablets to view and bid on real-time auctions when on the move.
Managing Director David Brown said: 'The mobile side of out business now accounts for over 18% of our visitors, up from 12% last quarter and Tradeouts Auction has been well received by the trade.

'Giving mobile users access to our auctions adds convenience for our bidders and increases our bidding audience significantly resulting in the best prices possible for our sellers.'
Users of the new mobile service have access to the latest Tradeouts stock, can search and view lots with full vehicle details, condition information and images, and can place proxy bids. Proxy bidding lets users enter the maximum price they would like to bid for a vehicle and the Tradeouts system will then automatically place the lowest possible bid on their behalf, and will increase up to no further than their maximum.
The CarBid feature is set to minimise bidder frustration and allows bids received in the final minutes to extend the auction for a further minute to allow counter bidders time to respond. This achieves the very best sale price for the seller.
Launched just four months ago, Brown says that Tradeouts Auction has been well received by the trade keen to minimise their buying costs and maximise their returns with hundreds of vehicles being auctioned each month. The app is offered as a free service to regular subscribers, with no buyers or sellers fees.

Brown added: 'We're delighted with how well Tradeouts Auction has been adopted by dealers across the country. Changing year of engrained buying and selling habits isn't always easy, but once our customers see how our service operates they're converts.'