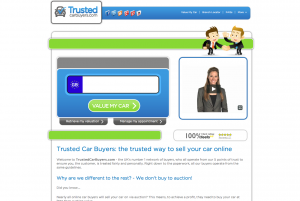 TRUSTED Car Buyers has launched a new online platform, allowing both independent and franchised dealers to buy stock directly from the general public.
Similar to the likes of We Buy Any Car and Auto Trader, the new Trusted Car Buyer service will allow dealers to buy stock for their forecourts online, rather than at auction.
However, allowing dealers to purchase vehicles directly from the public will also speed up the process of buying and selling stock, so cars won't be left standing on the forecourt.

According to the company, dealers across the UK can often pay more than the online car buyer who is using an auction to derive a profit because they won't have to worry about auction fees, transportation costs and commission.
A Trusted Car Buyers spokesperson said: 'The service is all packaged in a user-friendly website with mobile capabilities and customer service. The idea is to create the next generation of online car buyers, ultimately changing the preconceptions caused by the negative activity of others in our market place.
'All our dealers have criteria that need to be met before they can come onboard with us as a Trusted Car Buyer. Our decision is based on stock levels, premises and how long they have been trading to ensure that the customer is dealing with only the most reputable and trusted sources.
'Above all else, every dealer is independently rated by a third-party to ensure quality of customer service across the UK.'