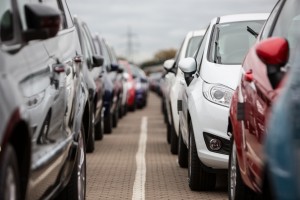 THE UK new car market has grown for a 36th consecutive month – a record growth period, according to figures released today by the Society of Motor Manufacturers and Traders (SMMT).
In February, traditionally one of the quietest months of the year ahead of the number plate change in March, the market grew 12.0 per cent year-on-year with 76,958 new cars registered, achieving a year-to-date rise of 8.3 per cent.
Fleet buyers drove this increase with registrations up 19.9 per cent in February, while the private market saw an increase of 3.4 per cent.

The UK car market's sustained expansion is the longest ever seen, beating the previous record of 26 months set in the late 1980s. The number of new cars registered has risen every month since March 2012, as the UK continues to bounce back from the recession. Consumer demand has been driven by exciting new products and attractive finance deals.
Mike Hawes, SMMT chief executive, said: 'Three years of continuous growth in the new car market is remarkable and reflects the strong upturn in the confidence of UK car buyers since the recession.
'Registrations of fleet and business cars have outpaced the private market in February, reflecting the increased business confidence across the UK.
'With most fleet car buyers on a three-year replacement cycle, many of those cars purchased at the beginning of the current growth period are now due for replacement. Over the course of 2015, however, we are expecting a more stable market to emerge given there has already been an extended period of consistent growth.'

MORE: Boy, 10, runs over his nine-year-old brother
MORE: Eye-popping sights at the Geneva Motor Show
MORE: Vantage Motor Group acquires its first Skoda dealership