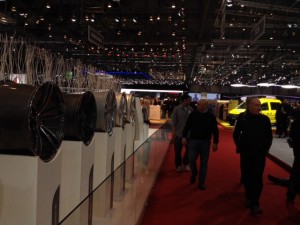 I'VE been the new kid on the block this week. While other journalists have chalked up motor shows galore – one I spoke to was attending his 110th – I was making my debut.
And the scale, the number of people, the number of new cars, and the noise knocked me out.
Geneva, they said, is one of the more homely shows. Homely? It's a home like Buckingham Palace is a house.

The halls are massive. There are six, all packed with shiny new cars (there is a seventh, and that is full of ramps, wheel-changing machinery, car washes, and all kinds of clever workshop things that I didn't understand).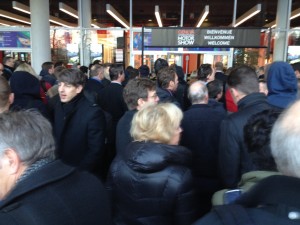 I should have known what was in store when I had to wait with hundreds of other journalists at 7.15 on a cold Tuesday morning for the doors to open (no queues here, it's just a mega free for all).
Then it was another wait (this time there WAS a queue – and a very long one) for my accreditation to be confirmed.
And then it was into the halls.

Every manufacturer you can think of had a stand (and so did many, many others you wouldn't think of). It underlines the state of the market when most of them were showcasing brand-new models – and, in many, many cases, far more than just the one.
There were some bizarre ones, and some concept cars that will never see the light of day. The Ford stand was superb (the GT is something else). The Audi stand was jaw-dropping. Aston Martin's new 4×4 had everyone thinking 'why??'. Infiniti's new cars were eye-catching. Hyundai's all-new Tucson had plenty of admirers.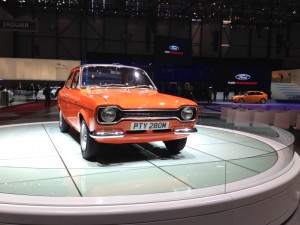 Not all the cars were new, mind. Some stands, like Ford, also turned back the clock and had star motors from yesteryear.
The Car Dealer reporters were out in force to capture the atmosphere, and to interview the movers and shakers. For my part, I spoke to  manufacturer bosses who wanted to increase the motorway speed limit, wanted ALL drivers to take an advanced test to prove they can really drive, felt it was time to do away with the congestion charge…
Who were these people? That'd be telling – all will be revealed in Issue 85 of the magazine.
And that wasn't all that was revealed. I was surprised how many stands were draped by pretty girls, some of whom were wearing very little. To me, an industry newbie, I'd expected that to be sooo last decade…
And a special mention to Ssang Yong. After two days of drinking nothing but coffee (and those little cups of the stuff so strong that it strips the lining off your mouth) they managed to rustle up a cup of tea. Proper breakfast tea. Okay, the milk was cream, but it still a rare, tasty delight in the land of the coffee bean…
It was a fun couple of days. You can read what all our journalists thought – and read their interviews with the car bosses – in the next issue of Car Dealer Magazine.