THIS December sees the most comprehensive awards ceremony taking place – and you're running out of time to enter.
We're combining the Used Car Awards with Ewards, creating an awards ceremony like no other, and you only have until the end of October to nominate yourself – or others – for a prestigious gong.
The move comes as Car Dealer experienced unprecedented demand in nominations for both the Used Car Awards and Ewards – so we decided to roll the two dos together to create a spectacular evening.

On the night of December 2, we will be handing out gongs in 21 different categories in the Used Car Awards. Then a portion of the evening will be devoted to celebrating the best automotive websites around with the Ewards gongs.
The awards evening will be ably supported by Mr Wheeler Dealer himself, Mike Brewer, and the theme for the night will be Miami Vice – so you're encouraged to get your '80s gear on.
USED CAR AWARDS
Below are the categories up for grabs. To nominate yourself and – hopefully – a few other dealers who you think deserve a mention, well, we've made it easier than ever this year – simply click here to bring up our nominations form. Just fill in the categories you want to and we'll do the rest. It couldn't be any easier.
EWARDS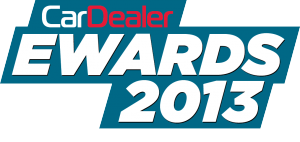 Ewards is our chance to recognise the best websites, web designers and web specialists in the automotive sector. Using a panel of expert judges in the run-up to the event, the best of the best will be picked out and celebrated on the night.

Seen a category that you think you or one of your customers should be winning? It couldn't be easier. Simply click here where you will find all the details and you can nominate either yourself or someone that you believe should be winning one of our prestigious awards. But you only have until the end of October to get nominating for both the Used Car Awards and Ewards – so don't delay!