THE USED car market could drop to 7.86 million units in 2018 if current trends continue, according to research from Cox Automotive – but it still says that would be 'remarkable'.
In its first published forecast of full-year used car transactions, the company predicted the market will fall by three per cent from 2017, when 8.11m units were sold.
If the forecast is correct, 2018 will be the third-biggest year for UK used car sales in the past five years, despite economic uncertainty, Brexit and the demonisation of diesel all having an impact on consumer confidence.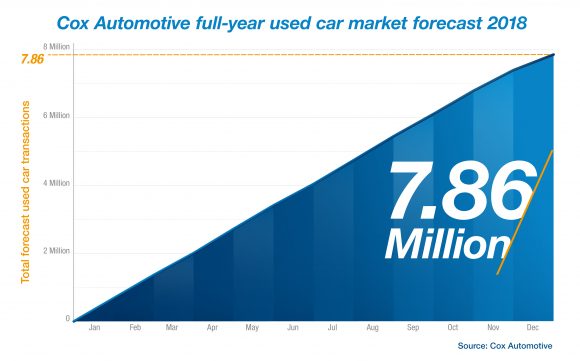 The data was acquired using a system to analyse changes in SMMT ownership data and make predictions for the upcoming months.
Philip Nothard, Cox Automotive's head of external relations, pictured, said: 'The used car market has so far turned in a solid performance this year and our forecast of 7.86 million transactions by the end of 2018 would be a remarkable achievement for a market facing the headwinds of Brexit, the demonisation of diesel, economic uncertainty and the fall in new car sales.
'If current trending continues then dealers will continue to reap the benefits of sourcing and selling the right used cars for the right customers.
'We are encouraged by the continued strength of the used car sales reported in a succession of interim results from the listed franchised dealer groups and our market intelligence on sales in the independent sector.'

MORE: Cox Automotive's fundraising Kilimanjaro team thanked by England rugby ace Rachel Burford
MORE: Cox Automotive marks International Women's Day with Kilimanjaro team
MORE: All-woman team from Cox Automotive preparing for Kilimanjaro climb