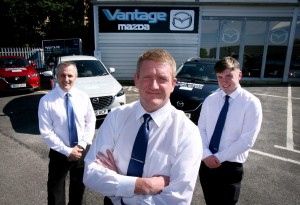 VANTAGE Motor Group has been appointed as the official Mazda dealer for Oldham with plans to build a brand new site, signifying major growth for the business and boosting its turnover by £8million.  
The move sees Mazda join brands such as Toyota, Kia, Citroen and Honda in Vantage's portfolio and follows hot on the heels of the acquisition of the group's first Skoda site in Morecambe – increasing its network of sites to 22.
Vantage has opened a temporary showroom on the same site as Vantage Hyundai Oldham on Rochdale Road, and plans to build a brand new Mazda dealership later this year, representing an investment of £500,000.

The dealership, which will be branded as Vantage Mazda Oldham and is situated just off the A627, will create ten new jobs, and is expected to sell 500 new and used cars per year.
Vantage managing director Mark Robinson said: 'We are very excited about adding Mazda to the brands we are proud to represent, and it couldn't come at a better time as Mazda continues to evolve by adding fantastic new products.'
Vantage Motor Group was founded in Harrogate, North Yorkshire in 2003. The Group now has 22 dealerships across Northern England and the West Midlands. Turnover to the end of 2014 was £174million.
Our picture shows, from the left, David A. Cunningham; centre principal Andy McGevor; and Simon Barlow.

MORE: Motor Codes issues warning over dispute resolution
MORE: Big Motoring World creates 300 new jobs as it expands
MORE: Lookers reports £1.75bn turnover and increased profits for first half of 2015
On SuperUnleaded.com: Chris Evans puts 12 classic cars up for sale