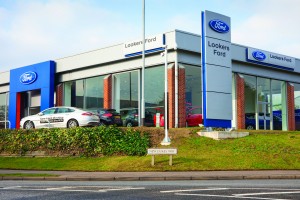 LOOKERS has reported turnover of £1.75 billion in the first half of its financial year as part of 'an excellent trading performance'.
Adjusted profit before tax was £43.1 million (2014: £40.2 million) which is a record for a half-year.
Other key facts and figures in the company's interim report and accounts:

Adjusted profit from operations increased by seven per cent to £49.2 million (2014: £45.9 million).
Interest costs increased slightly in the period to £6.1 million (2014: £5.7 million).
Profit before tax improved by six per cent to £39.9 million (2014: £37.7 million).
Earnings per share increased by six per cent to 8.08p compared to 7.59p.
Profit after tax improved by eight per cent to £31.8 million (2014: £29.5 million).
Cash flow for the six months continued to be strong with cash generated from operations of £42 million (2014: £55.9 million).
During the period the company invested £5.8 million of capital expenditure in improving dealership facilities and £4.3 million in acquisitions.
Net cash inflow was therefore an improvement to £9.4 million compared to £6.0 million in 2014.
Chief executive Andy Bruce said: 'We have delivered a strong trading performance in the first half of the year which is another record result and the seventh successive year of improved profitability.
'Both the motor and parts divisions have produced excellent results with improved cash flow for the period, further strengthening our balance sheet.
'We are well placed to take advantage of growth prospects across all areas of the business as well as consolidation opportunities in the sector. This gives us confidence that we can continue to grow and deliver improved results for the full year.'
Chairman Phil White added: 'Our motor division once again delivered an excellent performance with growth in turnover and profit before tax.

'Our independent parts distribution business also made good progress in the period. Our continued growth demonstrates the strength of the group's businesses which are underpinned by strong cash flow.
'The board intends to increase the interim dividend by 10 per cent, which follows the 58 per cent increase in the dividend over the last five financial years. The interim dividend will therefore be 1.07p per share (2014: 0.97p) and will be payable to shareholders on November 27.'
MORE: Volvo and Honda are high fliers when it comes to customer service
MORE: Motors.co.uk promotes new monthly payment functionality
MORE: The banger is dead, long live the banger!
On SuperUnleaded.com: Bits of Renault Megane melt in the sun