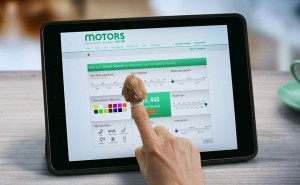 MOTORS.CO.UK is promoting its new monthly payment search functionality in a major TV campaign launching this week.
Featuring the debut of a fresh character, Miss Smart Finger, the ads will promote the benefit of finding a nicer car than expected by introducing the ability to search within your monthly budget.
The advanced search-by-payment functionality, which launched onsite at the end of July, allows consumers to refine their search results to show only those cars which meet their financing needs in terms of deposit and monthly payment.

In advance of the launch, hundreds of dealers upgraded at no additional cost to a finance calculator on their inventory to allow inclusion within the payment search.
Andy Coulthurst, managing director of Motors.co.uk, commented: 'With more than three quarters of consumers using dealer- sourced finance to purchase their new car, we believe that a monthly payment search is vital to improving the efficiency of the car search process and we will drive its adoption through TV advertising.'
The new advert introduces Miss Smart Finger using the monthly payment search to find her ideal car within her monthly budget. Miss Smart Finger is the latest addition to the campaign launched in March, which has been shown more than 5,000 times and seen 272 million times across major channels such as Sky Sports, Channel 5, Comedy Central, Sky Atlantic and Dave.
The finance prices are all set individually by the dealer ensuring they have full control of the rates advertised. The technology is powered by iVendi who provide dealers with an easy set of tools to control the rates and the ability to upgrade to receive qualified finance applications.

MORE: Ben Garside: Are you planning for a busy September?
MORE: Acquisition sees Ancaster Nissan expanding into Slough
MORE: Perrys adds outlets to its portfolio as it purchases GK Group
On SuperUnleaded.com: Idiot drunk driver crashes twice but still carries on