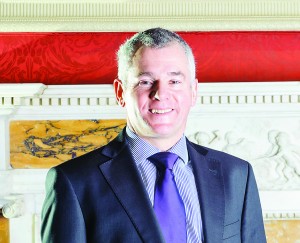 PERRYS has bought the GK Group, based in Chesterfield, Derbyshire, and in the process has added seven dealerships to its portfolio.
The GK Group is a long-established company that runs five Ford showrooms, a Mazda showroom, a Kia outlet and a large accident repair centre. Employing 400 members of staff, the firm has a turnover of roughly £175m.
GK Group was previously owned by George and David Kenning and their families. George and David will be retiring after the sale and Paul Rogers, GK managing director, will be joining Perrys.

George Kenning said: 'Perrys are a highly successful, privately-owned business with a reputation for excellence. We are delighted that this sale offers our staff enhanced security and better opportunities for the development of their careers.'
This will be the largest acquisition that Perrys have made since its management buyout in 2001. The financial details of the deal have not been revealed.
Chairman Ken Savage, pictured, said: 'We are very happy to announce the acquisition which extends our relationship with Ford, Mazda and Kia. The addition of GK Group will make a great fit for Perrys with our new dealerships located just south of our existing sites in Yorkshire.
'The group's ongoing success can be credited to its commitment to the core values of customer care, high-quality vehicles and staff retention. I am sure everybody will welcome the GK staff into Perrys and make them feel part of the team.

'Alongside the arrival of new franchises in the last few years, such as Nissan in 2013 and Hyundai in January of this year, the addition of GK Group Ltd will add considerable scale to the group.'
David Kendrick of UHY Automotive, who acted for GK Group in brokering the deal, said: 'GK Group is one of the oldest Ford dealer groups in the country and has a very strong reputation. We are delighted to have assisted the shareholders with their exit and I have no doubt that the acquisition will add significant value to Perrys group moving forward.'
This news follows last week's announcement that Perrys have broken ground on their new £7m, multi-franchise development in Preston.
Expected to open in April 2016, the move from their Blackpool Road premises will see state-of-the-art Mazda, Kia and Vauxhall showrooms conveniently built right off Junction 13a of the M6.
MORE: £2m investment will see Lincolnshire Audi dealership transformed
MORE: The banger is dead. Long live the banger!
MORE: So.. is jailed car dealer planning the Great Escape?
On SuperUnleaded.com: Vandal scratches Porsche, Petrolheads the world over weep