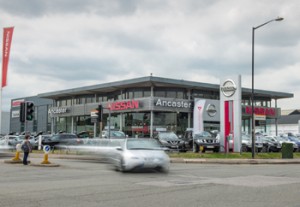 ONE of the UK's leading and longest-serving Nissan dealers is strengthening its presence in London and the South East with the acquisition of the manufacturer's existing outlet in Slough.
Ancaster Nissan – part of the Ancaster Group – bought the Dover Road dealership from WLMG (West London Motor Group) and will retain all 23 of the franchise's staff.
They will join a thriving team of more than 200 Ancaster employees working across the group's seven other sites.

The group, which was founded in 1949, has been with Nissan since it launched in the UK as Datsun in the 1970s and now operates award-winning Nissan franchises in Bromley, Eltham, Penge and South Croydon.
The acquisition of WLMG Slough – Ancaster Group's fifth Nissan franchise – makes the group the second largest Nissan retailer in the South East.
And it underlines the group's ongoing commitment to and confidence in its partnership with Nissan. Two of Ancaster's sites have recently undergone major redevelopments to install Nissan's new customer-focused retail concept and a similar redevelopment of the new Slough site will take place soon.
Meanwhile, the group's managing director, Stephen Wood, is the serving chair of Nissan's dealer association.

Mr Wood said: 'We are delighted to have added such a prominent and successful site to our growing portfolio of Nissan sites.'
MORE: Perrys adds seven outlets to its portfolio as it purchases GK Group
MORE: £2m investment will see Audi dealership transformed
MORE: The banger is dead… long live the banger!
On SuperUnleaded.com: Idiot drunk driver crashes twice but still carries on