VOLVO has jumped to third place in the Leasing.com league table, overtaking Audi and BMW.
Although there's strong demand for Volvo's award-winning SUV range, the most popular model to lease is the S90 saloon thanks to its strong residual values and a host of affordable deals on the premium model.
The UK is now Volvo's biggest European market and third largest globally behind China and the US. Leasing is also now the fastest growing form of finance for Volvo, with personal leasing accounting for 15 per cent of overall sales in the UK, according to the manufacturer.

Head of strategic partnerships at Leasing.com Paul Harrison, pictured, said: 'Volvo's offering continues to impress lease customers thanks to its premium appeal, quality engineering and affordable lease rates.
'We expect the arrival of the new S60 and V60 ranges to boost demand for the brand even further.'
Remaining at the top of the table for manufacturer enquiries year-to-date 2019 is Mercedes-Benz, followed by Volkswagen.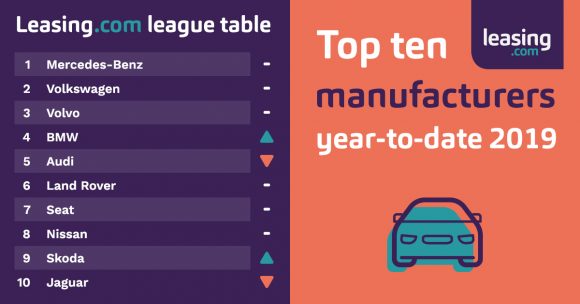 On the personal lease enquiries for April league table, the Mercedes-Benz A-Class is top, followed by the Volkswagen Golf and Skoda Kodiaq.

Harrison added: 'The dependable Volkswagen Golf has been the most popular personal lease car for many years, but it looks as if the tech-laden Mercedes-Benz A-Class could steal its crown this year.'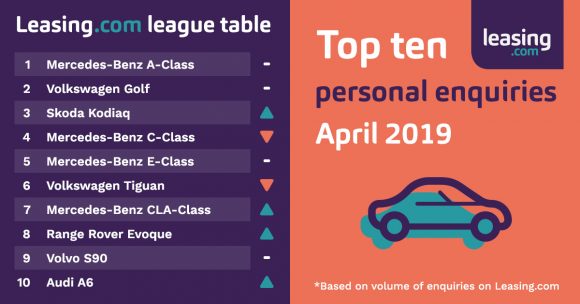 MORE: New business in consumer car finance market rises by volume and value
MORE: Leasing.com launches with its campaign 'Say goodbye to buying'
MORE: Get FREE admission to the Leasing.com London Motor and Tech Show!