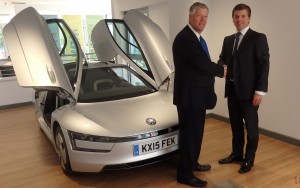 THE family-owned Marriott Motor Group, with sites in Bury St Edmunds, Stowmarket, Ipswich and Kings Lynn, has taken delivery of Volkswagen's most fuel-efficient car – the XL1.
Volkswagen are producing just 200 of their 'car of the future' with just 26 destined for the UK. 
The Marriott Motor Group will be only the second retailer in the UK to see the model in the showroom.

Standing just under 4ft tall at 45.4 inches, the XL1 has an aerodynamic look based on sports-car design principles that disguise the record-breaking combined fuel efficiency that is capable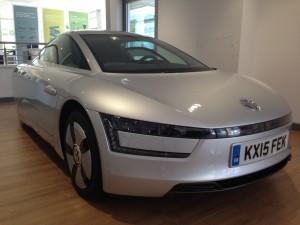 of 313 miles per gallon, the equivalent of a journey from London to Newcastle.
In technical terms, the revolutionary XL1 can accelerate from rest to 62 miles per hour in 12.7 seconds, has a top speed of 160 km per hour and can deliver fuel consumption of 0.91/100km – a feat that has not been achieved by any other vehicle to date.
Marriott managing director Paul Barnard said: 'The XL1 is a ground-breaking concept for Volkswagen that has already won a design of the Year Award. We are very proud to be one of the few to own the world's most fuel-efficient car.
'My family has been selling cars for more than 90 years and I can honestly say I have never seen  anything quite like the XL1.

'The ground-breaking sporty design and gull-wing doors disguise the fact this vehicle can achieve over 300mpg.  Shorter than a Polo and lower than a Porsche, this is a car of the future that has been built today. It's also pleasing to see we are one of the very few to see it in our Volkswagen showrooms.'
Much of the XL1's bodywork is lightweight strong carbon fibre-reinforced polymer, resulting in an overall weight of just 795kg which is said to be less than a polar bear.  
The plug-in hybrid benefits from a two-cylinder TDI engine that emits 21g/km of CO2, a seven-speed dual-clutch and lithium-ion battery that can be charged using a conventional household electric outlet and can regenerate and store energy.  The vehicle can be driven up to 50km in pure electric mode with zero emissions.
Costing in the region of £100,000, the XL1 is currently on display at Ipswich Volkswagen, and can be seen at retailers in Bury St Edmunds, Stowmarket, and Kings Lynn in the near future.