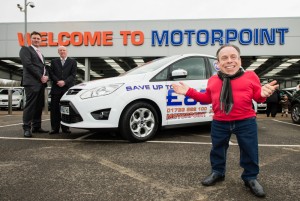 FILM star Warwick Davis has officially opened the newly refurbished Motorpoint site in Peterborough.
Warwick took time out from the UK tour of Philip King's hit farce See How They Run, starring actors from his Reduced Height Theatre Company, to turn on the lights in front of a crowd of more than 100 people at the new-look site on Edgerley Drain Road in the city.
Also present was the Mayor of Peterborough, Councillor June Stokes.

Motorpoint, the UK's largest car supermarket, has invested more than £250,000 upgrading facilities in Peterborough, including the construction of an all-weather canopy, to help cope with ever-increasing demand from customers across East Anglia and the East Midlands.
The site, which opened in 2006, has been a huge success to date, with its 50-strong workforce playing an integral part in Motorpoint selling more than 35,000 cars last year nationwide – equivalent to one every six minutes.
Lee Arnold, general manager of Motorpoint Peterborough, said: 'We're delighted that Warwick was able to take time out from his busy schedule to help open our new-look site.
'He lives nearby and we helped him out recently by supplying a vehicle he and his theatre company will be using until May. We don't normally sell seven-seaters but we managed to source a Citroen Dispatch for their tour.

'The day was a great succcess all-round. Although we only had a few responses to an email we sent out, we had well over 100 people here on the day as well as the Peterborough Phantoms hockey team. And we managed to sell a few cars as well.'
Warwick is best-known for his roles in Harry Potter, Star Wars, Ricky Gervais's Life's Too Short, and more recently An Idiot Abroad 3. He said: 'As the good folk at Motorpoint are helping my theatre production company, the least I could do was come along and support their opening.'
Pictured in front of the new all-weather canopy at Motorpoint Peterborough are actor Warwick Davis with Lee Arnold, general manager of Motorpoint Peterborough, left, and David Shelton, founder of Motorpoint