Car Dealer Magazine Used Car Awards host and TV's Mr Wheeler Dealer Mike Brewer writes about the used cars he think will become future classics and rise in value.
Car Dealer Magazine's Used Car Awards for 2020 have been postponed for 2021 as a physical event, but will be held digitally for the first time.
Here are the cars Brewer thinks will soon become future classics…

---
I liken spotting a future classic to a dark art – some people say they've got a way of telling which cars will increase in value, while others are happy just to take a punt and hope for the best. 
I think I fall somewhere in between the two. I'd like to think that I've got a keen eye for an appreciating vehicle, although at times you have to go with gut instinct alone. Here, I pick a few that I think will gain future classic status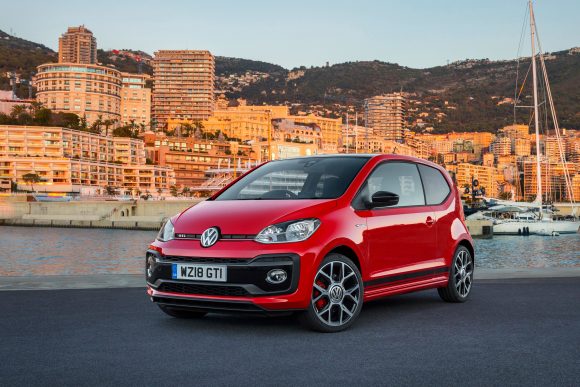 Volkswagen Up! GTI
I'm going to start with a car that's still on sale – because I'm that confident the VW up! GTI is so good it'll one day become a future classic. 

Spotting a car that's currently on sale that'll achieve this enviable accolade is never easy, but this is one that won't have to cost the earth.
The little pocket rocket has all the right ingredients to be a future classic. It's small, relatively affordable and wears that all-important GTI badge. 
When first released, the waiting list was close to nine months long, and it's not hard to understand why – the up! GTI offers a corking drive as well as genuine day-to-day usability. What's not to like?
You need only look at the prices being asked for classic Golf GTIs to see which way this little car's values are heading. Of course, they're likely to dip for a little while – the up! GTI is still a new car, after all – but after that time I'm sure they'll start driving on up, and this is why you need to get your hands on one.
The knowledge
Model: VW up! GTI 
Engine: 1.0-litre 3-cylinder
Price (today): £14,000
Produced from: 2018
Power: 113bhp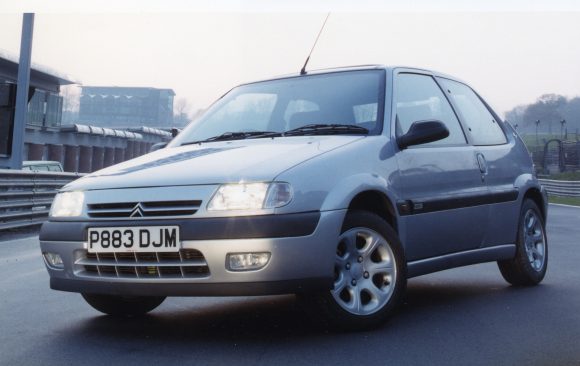 Citroen Saxo VTS
The Saxo VTS has been tipped as the next big appreciator among the French, non-special edition hot hatches. Now, I say non-special, but that's not to say that this Saxo is lacking in charm. Far from it. 
The 118bhp hatch was light, nimble and handled incredibly well indeed. It was also one of the definitive poster cars of the Max Power community – more so than any other car on this list, which means finding an unmodified one is extremely difficult. 
That's where I'd start first – try to find a clean, unmolested version and you'll be on to a winner. I'd also be sure to check for any crash damage – cars like these were hugely popular among boy racers, which is why you'll often see bent examples. The interior, although a little low-rent, should be tidy too.
They are still available for less than £3,000, although there aren't too many out there at all. I've seen several pre-facelift models – the one to have if you can find one – go for decent money on eBay, but they rarely come up for sale. I'm worried that demand is already beginning to soar and is pushing prices up in the process. 
The knowledge
Model: Citroen Saxo VTS
Engine: 1.6-litre 4-cylinder 16v
Price (today): £3,000
Produced from: 1997-2003
Power: 118bhp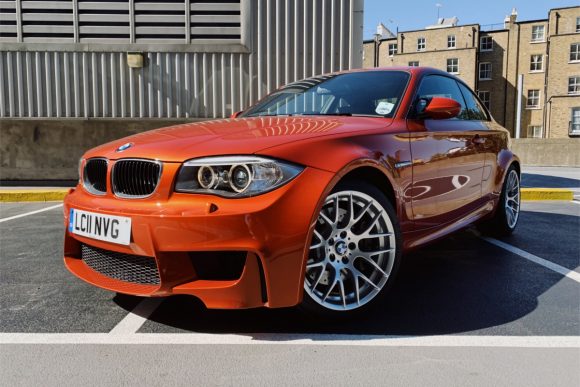 BMW 1 Series M Coupe
I bet you all remember the Z3M Coupe, right? The iconic 'bread van' is a cult classic, and they're trading for some pretty hefty figures right now – which is why you won't find one in this list. 
More recently, there has been the M2 – a lightweight, shouty coupe with plenty of punch and a distinct keenness for going sideways. But there was a special car in the middle, and that would be the 1 Series M Coupe.
It was never meant to be a proper project. Engineers at BMW's M division knew that there wasn't enough budget to properly develop a new fast coupe, which is why the 1M was created in an undercover, weekend-mechanic kind of way. 
Underneath the bonnet sits a silky turbocharged six-cylinder engine with 335bhp and power is sent to the rear wheels via a proper, old-school manual gearbox. It's the drivetrain dreams are made on. 
In terms of a used purchase, the 1M makes a lot of sense. Thanks to relatively few coming into the UK at launch, it's remained quite depreciation-proof – and prices are only likely to increase even further. Therefore, get in while you can – it may sting when it comes to handing over the cheque, but you'll be rewarded with one of the very best compact sports cars to come from BMW. 
The knowledge
Model: BMW 1 Series M Coupe
Engine: 3-litre straight-six
Price (today): £43,000 
Produced from: 2011-2012
Power: 335bhp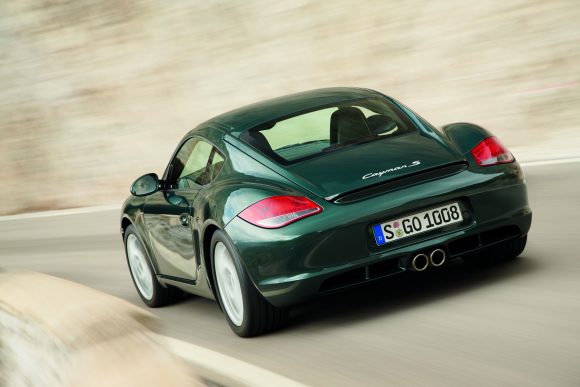 Porsche Cayman
The first-generation Porsche Cayman sits in a similar category to the BMW 1M in that at its core is lightweight, frenetic driving with as few intrusions to water down that experience as possible. This is about driving purity – the sort you feel through your fingertips and the seat of your pants.
When it was first released back in 2006, the Cayman used much of the same components as the soft-top Boxster, albeit with the addition of a fixed roof. It was initially released with a five-speed auto and a six-speed manual – although Porsche's seven-speed PDK automatic was added later on.
A sonorous 3.4-litre flat-six engine, which was fitted in the middle of the car, was used on Cayman S models, while a less powerful 2.7-litre came in the base car. Both were extremely vocal and rewarded you for revving. 
I'd still argue it's one of the best overall packages to come from Porsche, and prices for the original are starting to climb.
As time has worn on, these Caymans have become better and better value. I'd still opt for the larger-engined, more powerful S version – although the base model is still a hoot to drive. 
If you're planning on buying an earlier model, then make sure you start the engine from cold and listen out for any rattles at idle – this could be a faulty intermediary shaft bearing, which if left to its own devices can completely total the engine – not ideal.
The knowledge
Model: Porsche Cayman, Cayman S
Engine: 2.7-litre flat-six, 3.4-litre flat-six
Price (today): both models from £12,800
Produced from: 2006-2012
Power: 245bhp, 290bhp (pre-2009)
Mercedes-Benz C63 AMG
Well, well, well, what do we have here then? The C63 is easily one of the most iconic cars to have been spawned by the partnership between Mercedes and AMG, and this was mostly down to its incredible 6.2-litre naturally aspirated V8 engine.
This car is a bit like a thug in a smart suit – the sort you see on the doorsteps of most courtrooms or guarding the entrance to a seedy nightclub. 
To the untrained eye, it looks relatively close to a regular C-Class, yet give the throttle even the remotest prod and all hell breaks loose. Even early cars packed more than 450bhp, while that soon increased to well over 500bhp. It was available as an estate too – perfect for taking the family and the dog on a breakneck adventure. 
It's one of the best-weighted sports saloons (or estates, for that matter) around, and rewards you each and every time you get behind the wheel. Yes, it may only do 23mpg on a good run, but you've got to expect that from a big, heavy V8 engine.
Why do I think it's a future classic? Well, prices are pretty competitive at the moment. You can pick up a decent, medium-mileage example now for about £25,000, and that seems like a bit of a bargain to me, given the amount of performance you get. 
The knowledge
Model: Mercedes-Benz C63 AMG
Engine: 6.2-litre V8
Price (today): circa £25,000
Produced from: 2008 to 2014
Power: 450bhp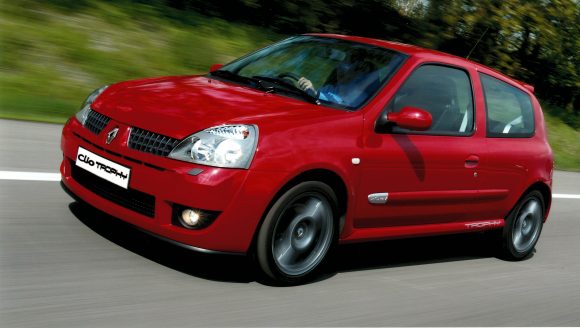 Renaultsport Clio
Lightweight French hot hatches are gems of the motoring world – and that's why this is the second to appear in my future classics list. 
The RenaultSport Clio, in either 172 or 182 form, is well worth considering as a hot hatch investment because, quite simply, they're utterly brilliant cars to drive.
Good examples can be found for around £3,500 and while there's a surprisingly high number of unmodified examples out there, a couple of different UK racing championships have seen an influx of new builds based on the RenaultSport models in recent times.
In 10 years, though, there'll be fewer out there – so keep one safe now and I'm convinced it'll pay you back later. It'll never be anything close to the 205 GTi in terms of market value, but it will be a metric tonne of fun and will certainly return you some profit in the future. 
Thanks to its use of a lot of standard Clio parts, the RenaultSport is relatively cheap to run and parts can be replaced with little outlay. Body panels aren't costly – so fixing car park prangs or minor damage certainly won't cost the earth. 
The RenaultSport Clio offers up everything you'd want from a small, compact hot hatch. It's easy to drive daily, and will handle a run to the supermarket just as easily as one around Brands Hatch. 
The knowledge
Model: RenaultSport Clio 172, 182
Engine: 2.0-litre
Price (today): circa £3,500
Produced from: 2001-2006
Power: 172bhp, 182bhp
More Mike Brewer columns can be found here
More Used Car stories can be found here
Watch our Car Dealer Live interview with Mike Brewer below in full