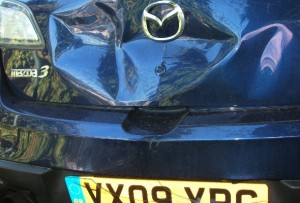 A NEW survey has shown a huge number of motorists would consider making a fraudulent insurance claim if the opportunity arose.
That's despite 66 per cent of motorists saying they believe the huge number of bogus claims is bumping up the price of insurance premiums.
The online survey by insurance website GoCompare asked 1,264 people about their opinions on insurance claims.

More than six per cent said they would make a personal injury claim even if they knew they weren't badly hurt – that's 1.7 million out of the 28 million motorists in the UK.
Incredibly, 1.1 million would say that people should do whatever they can to get money out of insurers.
The survey, carried out this month, shows many motorists have a dishonest streak.
Scott Kelly, head of motor services at Gocompare.com, said: 'Unfortunately, it's increasingly inevitable that a road accident will be swiftly followed by a claim for some sort of personal injury.

'Part of the blame lies with the claims companies which target people by telling them they can make thousands of pounds by claiming for injuries sustained in an accident on the road.'
In the survey, 66 per cent of people asked believe that personal injury lawyers should not be allowed to cold-call or text people.
Scott added 'New laws being introduced this April to ban referral fees and the use of incentives by claims management companies will hopefully go some way towards reducing the number of fake and exaggerated personal injury claims being made.'