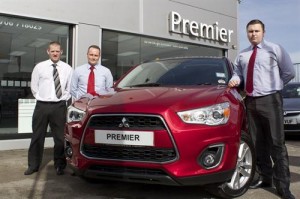 A BRAND new Mitsubishi dealership in Rochdale has helped the Japanese company pass an important milestone.
Family-run Premier Automotive, which opens with the franchise this week, will become the brand's 12th new outlet in the past 12 months.
Last year saw Mitsubishi become the fastest-growing mainstream brand and Ben Bird, general manager at Premier Automotive, expects the new partnership to be a successful one, creating more jobs in the area.

Bird, the third generation of his family to work for the company, said: 'We're really looking forward to bringing the Mitsubishi range to Rochdale and this is an exciting time for us. We are a well-established family business and our priority is excellent customer service. We have been trading in the area for more than 20 years and the reason people keep coming back to us is they know they will get an honest, straightforward approach.'
Premier Automotive will open today and its showroom is set for a makeover, with a new car park being created on adjacent land. The Mitsubishi showroom will also pilot the use of tablet computers for all sales staff on the floor.
The company is already well established. Having been founded in 1992, it now employs 60 people across three sites in Rochdale and Dukinfield and has won a number of industry awards with its other franchises.
The Mitsubishi brand will replace Chevrolet at its site in Water Street, Rochdale, and it is looking to take on three extra staff.

Toby Marshall, director of sales & marketing for Mitsubishi Motors in the UK, said: 'We are delighted to welcome Premier Automotive to the Mitsubishi family. They have a reputation for excellent customer service and a history of winning industry awards. We are very much focused on delivering excellent customer service and we know Ben and the team will deliver that.'