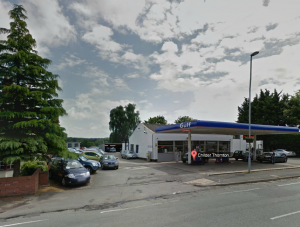 19 VEHICLES have been destroyed at a Merseyside dealer, in what police are calling an 'arson attack'.
The fire swept the forecourt of Childer Thornton Car Sales, located near Ellesmere Port in the Cheshire, destroying multiple cars and causing considerable damage – with police suggesting that the damage was no accident.
Emergency services were called out to the fire just after 4AM yesterday, and a joint investigation is now underway, according to the Ellesmere Port Pioneer.

'Thousands of pounds worth of damage has been caused by this fire but the outcome could have been much worse had it spread,' said detective constable Allan Faddes, of Ellesmere Port CID.
'Fire is so unpredictable and can quickly become out of control so it is fortunate that in this case we are only dealing with damage at the garage rather than people seriously injured.
'I would appeal to anyone that may have seen people acting suspiciously in the area, or have any information about the fire to call police so we can catch whoever is responsible for this reckless act.'
Witnesses are asked to call police on 101, or Crimestoppers anonymously on 0800 555 111 quoting incident number 79, of 25 April.

Picture credit: Google
Have you filled in our Car Dealer Power survey yet? It's a great opportunity to have your say, and you could win one of seven great prizes! Click here to enter.