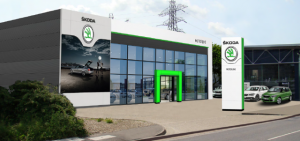 KENT-BASED Motorline Group will open a new £3.7 million state-of-the-art Skoda dealership in Canterbury in October as part of the group's on-going expansion across the south of England and Wales.
Following years of growth, Motorline is set to relocate its Skoda facility less than a mile from the Vauxhall Industrial Estate to a cutting-edge facility on Broad Oak Road.
With a new eight-car showroom, workshop and customer handover bay, the building has been designed to reflect the new Skoda corporate identity.

Glen Obee, Motorline chairman, said: 'This is an exciting time for the Motorline Group, Skoda and Canterbury as we continue to expand our presence in the south-east.'
'Skoda has come a long way in the last 30 years and this stunning new facility is testament to the company's ever growing reputation as a manufacturer of well-built, reliable cars with a helpful dealer network.'
With dealerships in Canterbury, Dartford and Gillingham, Motorline is Kent's premiere Skoda retailer. The new and improved Canterbury dealership will create up to 10 new jobs.
Obee added: 'At Motorline, we are always looking to develop our group and services to provide our customers with the best service and value in motoring.

'We have put a lot of work into the design of this state-of-the-art facility to ensure it is a welcome addition to our expanding network when it opens in late 2015.'
MORE: Mobile devices are the way ahead…
MORE: Things won't improve after the election, say motorists
MORE: Baggott's Britain: What I'd do if I won the election
On SuperUnleaded.com: Friendly motorist hurries to ducks in distress