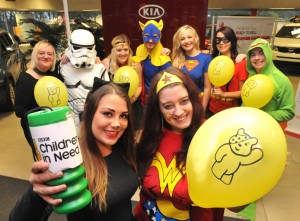 SUPER powers took hold at North East-based Jennings Motor Group recently when staff swapped their corporate uniforms for superhero outfits to raise money for this year's BBC Children in Need appeal.
Batman, Bananaman, Superman, Spiderman, Wonderwoman, Catwoman and the company's very own 'Super Ginge' character, to name but a few, took part in a day of fundraising activities to raise as much cash as possible for this year's charity event.
To further boost funds, the company's managing director, Nas Khan, agreed to make a £10 donation for every new and used car sold across the group throughout the week leading up to Children in Need.

Khan said: 'The response from staff has been incredible. The day was all about having a bit of fun and at the same time raising as much money as possible for Children in Need.
'Donations are still being collected across the group, but at the last count we were over the £3,000 mark, which is absolutely fantastic.'
Other fundraising activities included representatives from each dealership being nominated to be 'cream pied' for a small fee, in addition to
staff being given the opportunity to win a number of prizes including a mountain bike, shopping vouchers, a golf day, football tickets, a free MOT and free car valeting in a raffle.
A number of staff also took part in a bake-off and provided a variety of culinary delights for staff and customers to enjoy, which were sold on the day, in addition to leg waxing being available for male members of staff.

Staff were rewarded for their efforts with a prize for the best dressed super hero nominated at each branch, in addition to the overall winner, voted for by staff, receiving an additional day off work. The winning prize was awarded to 'Super Ginge' also known as assistant parts manager, Ian Davison, at the group's Ford Direct dealership in South Shields.
BBC Children in Need, which was first launched in 1980, changes the lives of disadvantaged children and young people in the UK.
Jennings Motor Group operates Ford, Kia, Mazda, Seat and Mitsubishi dealerships across the North East.
MORE: Is Ford committed to Britain? Of course!
MORE: The dealership staff who would rather twerk than work
MORE: £100,000 of damage as car leaves the road and hits dealership