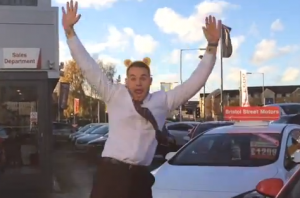 IT'S always daunting when the boss approaches you to see what you're working on. 
And at Bristol Street Motors, Waltham Cross, Herts., the staff are a conscientious bunch, looking keen and busy as general manager Keith Sullivan checks up on them.
But once his back's turned, it's a very different story as this video shows!

For the workers at the Vauxhall outlet are really more interested in twerking than working, and are not afraid to show off their moves.
It's all in a good cause – for the BBC's annual Children in Need appeal.
So watch and enjoy the video – and click here to make a donation. The team at the dealership want to raise £1,000 so let's help them on their way!
MORE: A new all-time record at Daimler Financial Services

MORE: Want to sell a car? Ask the customer when their birthday is