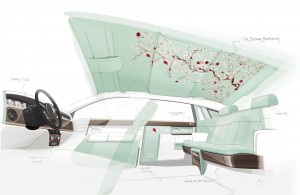 WE'VE all eased ourselves behind the wheel of a new car and thought it disappointing – that somehow, it just feels a bit bare and tinny…
Well, that's not likely to happen with one car being unveiled at the Geneva Motor Show next month.
Rolls-Royce will be showcasing Serenity – a new, super-luxury interior that starts with luxury and then adds even more dollops of luxury. So you get it's going to be luxurious, right?

Rolls-Royce calls it a 'haven of serenity' – a one-off interior put together by the Bespoke Design team 'using the finest of textiles to create the most opulent interior of any luxury car.'
Rolls-Royce adds: 'This unique design demonstrates the levels of craftsmanship, creativity and attention to detail only Rolls-Royce Motor Cars can offer.'
The design team has taken inspiration, says the manufacturer, from the opulent interiors of Rolls-Royces that have conveyed kings and queens, emperors and empresses and world leaders throughout history, using contemporary interpretations of European furniture combined with Japanese Royal Kimono designs to deliver a truly innovative, modern and tranquil Rolls-Royce interior.
There are no more details than that – although it will have smoked cherrywood interior, woven silk headrests, mats with silk trim, veneered rear seat valances, mother of pearl marquetry on the door trim, and grand silk blossom headlining.

Sounds a bit posher than the interior of our company Mini Metro…
MORE: More difficult than ever to sell cars? No way, says Lookers chief
CONFERENCE LATEST: Ex-British Security Service staff to give speech
CONFERENCE LATEST: The Full Details
MORE: Volvo hoping to sell 4,500 all-new XC90s in the UK this year