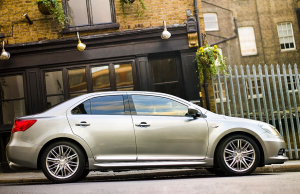 THE announcement at the end of last year that Suzuki Cars was pulling out of North America came as a shock to many in the country – not least to its extensive dealer network. One canny US dealer, about to lose his franchise, wasn't going to let the news get him down however.
Jim Shorkey, owner of a Pennsylvania-based Suzuki franchise, did exactly the opposite of what you might expect after the announcement that the brand would soon be dissappearing.
According to the Pittsburgh Post-Gazette, rather than discounting the soon-to-be-departed brand's models, he bought as many as he could lay his hands on.

The move to obtain any and every model from a marque that's just filed for bankruptcy might seem strange, but Shorkey had learned from past experience that the withdrawal of a manufacturer can actually do some very strange things indeed.
Previously running an Oldsmobile dealership – a GM-owned manufacturer that was dissolved a few years ago – Shorkey knew that Suzuki's similar announcement would have a very desirable effect: that of driving last-minute customers frantically into showrooms.
Shorkey got to work almost immediately – flying out to Suzuki's American headquarters in California to enquire how the company was going to handle pulling out of the country, and learned that the firm would continue to honor vehicle warranties.
Next he went on search of stock, reportedly telling his staff: 'We want to start buying Suzukis. I want to buy every Suzuki I possibly can. We want to take advantage of everybody else's panic.'

And buy they did: acquiring a staggering 800 vehicles, the dealership has even had to rent extra space to store them all.
As it turns out, that was a wise move. According to the Pittsburgh Post-Gazette, when Suzuki's news broke in November 2012, Shorkey's dealer was selling 50 cars per month. Since January this year, however, it's been shifting an average of 130.
Shorkey expects that, at this rate, the stockpile should run out some time in the summer, by which time he'll have sold more Suzukis per month than perhaps he ever had before.
Not a bad outcome for an announcement that could have been taken as bad news – and a good lesson in doing business, we reckon.
Have you filled in our Car Dealer Power survey yet? It's a great opportunity to have your say, and you could win one of seven great prizes! Click here to enter.