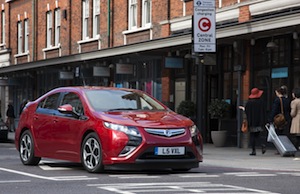 THE biggest hurdle to overcome when selling the Vauxhall Ampera is not the £30,000 asking price but 'the many myths that surround electric vehicles'.
Speaking exclusively to Car Dealer, coordinator for Opel brand communication in Europe, Christopher Rux, said: 'Before customers even ask about price, they have a long list of questions about hybrid cars that need to be addressed.
'Before we launched Ampera, we did lots of research on common myths and they range from "an electric vehicle will not work in the rain" to the misconception that charging an EV at home will use so much electricity, the wife can't use her hair dryer. And that is before we even begin to talk about range anxiety and the worries that come with batteries.'

Eduction is a key strategy for Opel/Vauxhall and that learning begins at the dealership where salespeople are required to 'go back to school", as Rux puts it, in order to sell the car properly.
'First of all it is essential we pitch this car at the right person. We don't want the Ampera to be a third car, we want it to be used every day.
'So we train dealers to ask questions about where they live, do they have a garage? Is there a charging point at work? Then we get out a map and point to all the charging stations on the routes the customer most regularly uses,' says Rux.
'If it all makes sense, that's when we move away from just offering the Insignia or Astra, we get the calculator out and make it very clear just how much the customer could save over two or three years.

'As soon as the customer sees the savings, the asking price doesn't matter any more.'
Re-education doesn't stop at the shop floor as Rux reveals that even mechanics must be correctly trained to handle the Ampera's Lithium ion battery packs.
It's a huge investment by Vauxhall and neither Rux or any other spokespeople available would come up with an exact monetary figure for all the additional training. Considering Vauxhall only sold 5,293 Amperas in Europe last year, that investment seems even more risky.
'The investment is irrelevant,' Dr Christian Kunstmann, senior manager for GME electrification, told us. 'Mechanics, engineers and salespeople will need this training because we are entering a hybridised future. More and more cars will feature battery power and soon enough, electric vehicles will become a common sight at many garages.'
Despite the low uptake in sales, the Vauxhall Ampera boasts an impressive 21.2 per cent market share in Europe. 'The jump to the Ampera is not as drastic as it is with all-electric cars', adds Rux.
'If we continue to educate customers about the ease of owning something like an Ampera, we will see the uptake continue. This is just the start of hybrid technology for Opel, there will be plenty more in the future.'