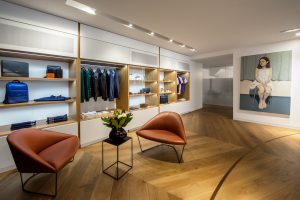 ASTON MARTIN has opened its first brand experience boutique in the heart of London's Mayfair district.
Named 'Aston Martin at No. 8 Dover Street', it displays a range of the company's products, experiences and brand collaborations.
Aston Martin said that No. 8 Dover Street would also be a destination for design master classes, art exhibitions, dinner series and other exclusive events.

The new boutique will display products from Aston Martin partners including Hackett London, Marma London, Quintessence Yachts, Emilia Burano, Silver Cross and FPM.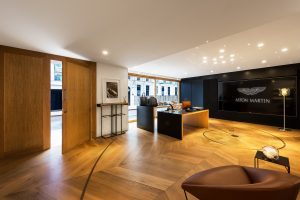 Aston Martin's executive vice-president and chief creative officer, Marek Reichman, and his team designed the interior space. He said: 'Dover Street mixes art, culture, shopping, luxury and elegance. It's the perfect place for Aston Martin. We are surrounded by art, design and beauty and want to feature the ideas that inspire us and share them with a wider audience.
'No. 8 Dover Street is a place where existing customers, admirers of the brand and people new to the marque can understand our design philosophies and experience the spirit of Aston Martin.'
It features modern design and artisan craftsmanship such as a bespoke mosaic floor, handcrafted from European oak. The floor follows a Nautilus shell design, starting in the centre of the showroom with a brass plaque displaying those recognisable Aston Martin wings.

A 'Q by Aston Martin' specification area lets clients design a unique Aston Martin sports car or an AM37 speedboat.
Katia Bassi, vice-president of Aston Martin Lagonda and managing director of AM Brands, commented: 'No. 8 Dover Street provides the perfect environment for us to showcase the beautifully crafted products and experiences offered through "Art of Living by Aston Martin". No. 8 Dover Street is where the world of Aston Martin comes together, the tangible expression of the path we started three years ago to develop Aston Martin into a globally admired luxury brand.'
MORE: Jaguar launches group tests at UK showrooms
MORE: Bentley Motors appoints new sales and marketing chief
MORE: Autonomous taxi service trial begins in Singapore
On SuperUnleaded.com:  You Can Buy A 1:8 Scale Bugatti Chiron For The Price Of A Hatchback