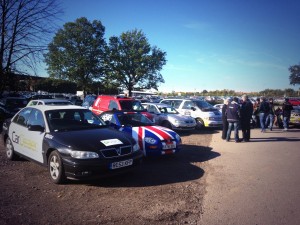 FOLLOWING the auction of this year's Bangers4BEN cars at Aston Barclay last week, which saw each of the 23 contenders that made it to Chelmsford raise £10,530 for the charity fund, the final results from BEN have just come in.
Car Dealer is pleased to announce that, including the additional fundraising figures, altogether Bangers4BEN 2013 scooped up a staggering £17,532.18 – that's right, 14 teams managed to raise an extra £7,002.18 for the BEN fund.
We can also announce that this year's winner of the Bangers4BEN rally is Citygate, piloted by Bhupendra and Cyril with their car making a profit of £950.00 at auction.

As well as taking part in the Bangers4BEN rally run to the Nurburgring in Germany, a number of the teams that took part also carried out a few fundraising events of their own.
After calculating up the final figures, BEN will present its top fundraiser award 2013 to Pro-Align for raising a whopping £1835.40 for the charity fund.
You can read the full Bangers4BEN 2013 write-up in the next issue of Car Dealer Magazine. To make sure you don't miss it, click here to download the iPad app.