BANGERS4BEN has set off on an epic adventure for the tenth time with 45 cars in tow.
The bar has been well and truly raised with the most extreme customisations we've seen on a banger yet.
The day began at Brooklands with our bangers parading on the sloped track. Here we got to see Blackshaws and Codeweavers partnership on the Mr Bean Mini, Samson Motors' Reliant Robin, the AA's Cow Car and Car Quay's pimped out Toyota Celica – complete with PlayStation, uprated sound-system and LEDs.

Mr Bean enjoying the motorway #b4b18 pic.twitter.com/c6oAmQZA5A

— Shaun Harris (@CW_ShaunHarris) October 5, 2018
There was one van that really wowed the crowds… when it eventually arrived. It was 67 Degrees who brightened everybody's day with the Nags Head in tow.
Just when it was all going so well… #B4B18 pic.twitter.com/jvpC7vTpu3

— 67 Degrees (@67degreesuk) October 5, 2018
However, the day started off badly when they broke down at the start. Fortunately the AA were able to get them back on the road and onto the ferry. Unfortunately, the van can't stop with a turn of the key currently, forcing Del Boy and Uncle Albert to stall it every time!
The other casualty of the day was the Your Best Car BMW 330 Batmobile, which had to be pushed into the hotel car park. Its alternator packed up before and after the ferry, then again on the way to the hotel. The AA are now on the case to get a new alternator fitted in the morning.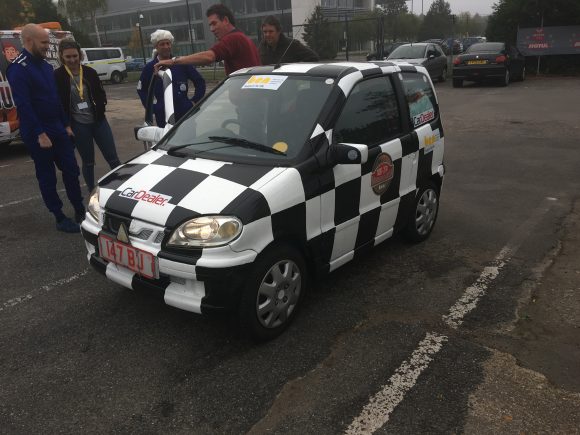 The only car still on the road is the micro car, and our final communication reveals the headlights are slowly dying…

You can follow more on @Bangers4Ben and #B4B18!