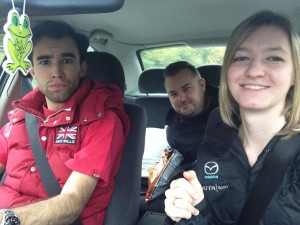 DAY two of our Bangers4Ben adventure has been nothing short of eventful, and for all the right reasons; even if it did start off with the Spidersnet's team throwing a stale mince pie at our window…
It's important to note however, that not all of us arrived to the first checkpoint on time yesterday evening. Unfortunately, due to road surface issues on the M25, two cars from the Bangers4Ben convoy got left behind.
Luckily, the Alice in Wonderland Honda Civic CRX managed to replace the punctured tyres and get going again, but sadly, the AA's Suzuki Swift suffered yet another problem with complete engine failure shortly after they hit Belgium. This left them with no choice but to give up on the little car.

But these two chaps weren't prepared to give up on the rally that easily, and losing their original banger certainly wasn't going to stop them. Instead, the AA recovery crew drove them back to the UK where they jumped into their own Range Rover before driving all the way back to Belgium. They finally arrived to meet us (just a little late) for dinner at 9.30pm – if that's not team spirit, I don't know what is!
After a bite of breakfast this morning and a quick rundown of the schedule ahead, we ventured out on the next route, where we would eventually end up at the Porsche Museum in Stuttgart-Zuffenhausen.
Duncan made a quick stop for fuel, before trying to impress the lady at the counter with his impressive French vocabulary, and we hit the road singing away to 80s tunes and causing havoc in the B4B convoy – later we found that the 'hard' driving seemed to upset the Omega, after we noticed a strong smell had started to filter through into the cabin.
When we arrived at the Porsche Museum, Duncan was feeling quite excited; so much so we dropped him off outside the entrance while we went to park the car. The museum was extremely impressive, featuring pretty much every 911 model in celebration of its 50th anniversary. To accompany the exhibition, the museum also staged the highlights in Porsche's motorsport heritage.

The next stop was our accommodation for the evening but seeing as we hadn't had lunch, we decided the best option was to look for the nearest McDonalds. But what I didn't expect to hear was 'I just jumped a red light' in a very calm voice, which James noted to Duncan and I as he casually drove across the lanes – clearly, the tiredness was beginning to kick-in.
When we eventually arrived at McDonalds, Duncan and James managed to order themselves two huge and partly stale burgers, which I went for a box of nuggets, which James kindly described as looking 'anaemic' – things appeared to be going well.
Coming towards the end of our trip, after we eventually managed to fix the frozen sat nav, James had a quick snooze on the back seat, while Duncan and I tried to hunt down the hotel's car park, which took us quite a few extra minutes than it probably should have done.
Nevertheless, we made it to the underground car park and between leaving the parked Omega and making our way to the hotel lobby, we made a few notable alterations to the Spidersnet Citroen Xsara, which I'm sure they'll appreciate in the morning – serves them right for throwing a mince pie I'd say.
Tomorrow, we're heading to the Nurburgring – the world's most spectacular and equally as dangerous racing circuit. Stay tuned to find out how we get on and follow James Batchelor, Sophie Williamson-Stothert and Duncan Chappell on Twitter to hear tomorrow's antics.