BENTLEY'S first and so far only diesel model the Bentayga has been dropped from its European line-up.
The diesel-powered luxury SUV sits alongside the W12 and V8 petrol models and will still be sold in 13 international markets, including Russia, South Africa and Australia. However, the brand cited the forthcoming plug-in Bentayga and recent well-publicised backlash against diesel vehicles among the reasons for discontinuing it in Europe.
A statement from Bentley said: 'Over recent months, the political legislative conditions have changed in Europe, and a significant shift in attitude towards diesel-powered cars has been widely documented.

'These factors, alongside the recent introduction of the new Bentayga V8 and our strategic decision to focus on electrification in the future, have led to us taking the decision to offer only petrol Bentayga derivatives in European markets from September 2018.'
Bentley's diesel Bentayga produces 429bhp from its twin-turbo V8 oil-burner. The real appeal for owners, though, wasn't its 35.8mpg fuel economy figure – after all, those buying a £100,000+ super-SUV don't normally worry about fuel bills – but the increased range it offered, allowing for nearly 700 miles in theory versus the W12's distance of 406.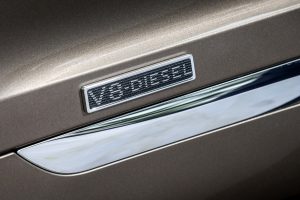 The V8 petrol Bentayga was launched earlier this year as a slightly more 'sensible' alternative to the 'bahnstorming' W12 model. It offered less shove than the W12, with its 542bhp trailing behind the W12's 610bhp, but hit back with a more palatable fuel economy figure of 24.8mpg against the W12's 21.6mpg.
The plug-in hybrid Bentayga, meanwhile, was revealed at this year's Geneva Motor Show and features a hybrid system adapted from the mechanically similar Porsche Cayenne S E-Hybrid. It's set to produce CO2 emissions of around 75g/km and will offer an all-electric range for silent city motoring. Bentley has previously promised that all its future models will feature an electrified variant.

The Bentayga is just the latest in a line of car models to see their diesel versions reduced or dropped. Porsche recently confirmed that it wouldn't offer a diesel variant on any future models, as did Subaru. Newly facelifted vehicles such as the Fiat 500X and Skoda Fabia have relaunched without any diesels in the range, and diesel iterations of models including the Vauxhall Corsa, Kia Rio and Suzuki Vitara have been removed from their respective manufacturer line-ups.
MORE: The cars to look out for at the 2018 Geneva Motor Show
MORE: JLR director Adrian Hallmark appointed Bentley chief executive
MORE: Bentley opens showroom in its biggest central European market