MOST used car dealers are saying they can't get enough stock.
Apparently, the economy has been so stagnant over the past half a decade that previous years of oversupply and under-demand are gone. Dwindling sales of new cars over the past few years means there are fewer used ones to go around, and as those at the end of their life cycle chug off to the great scrapyard in the sky, not helped round these parts by the sudden lack of supply in bits for old Rovers (once a Brummie, etc…), the cycle of older cars coming through fails to repeat.
So, in typical buck-the-trend Big Mike fashion, I find myself so bombarded with stock that I'm having to resort to dotting whatever has remaining tax in the windscreen at various locations around the region where they're unlikely to either a) piss anybody off or b) get vandalised (neither of which is easy when you're in the suburbs of Britain's second largest city), so I can squeeze my gates closed of an evening.

The reason for this is simple. A mate, who has been in the trade almost as long as I have, was served a wonderful piece of local council bureaucracy a couple of months back, when his local authority refused the landowner from whom he rented his site, planning permission for a car lot that had been on the same site for over 40 years, and had built up its own stream of regular customers.
It was enough to help him make a decision he'd been toying with for years. He simply went to live on the Costa Blanca to make a part-time income as an Elvis impersonator in Benidorm, and did a deal to sell me everything on his site, including the bunting and the caravan.
For the most part, it was all recent, saleable stuff, but like all dealers he'd picked up a few landmarks over the years — cars that stick around for so long unsold that before you know it, there's an owners' club full of weirdy beardies and tourists flocking from Japan to have their photographs taken with them.
One such example was a Renault Laguna that I knew had been 'in stock' for over two years. The tyres were no longer circular, and it had rings in the lacquer on the roof from when Roger and I had rested one too many cups of tea on it during one of our regular 'setting the world to rights' sessions.

Anyway, there was only one thing for it. Chuck the Laguna and an equally static Saab 9-3 on the back of my Sherpa transporter, and put them through my local auction.
I wasn't expecting a massive return on the two cars, but I'm also a skinflint, and I'm not a happy chappy if ever I feel I've been done over. The Laguna I wasn't bothered about. I've never liked trading the things and this was a particularly dishevelled example. I put it through with no reserve and when the hammer came down at enough to buy my missus a night in a semi-posh hotel, I wasn't unduly bothered. One down.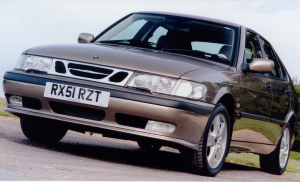 The Saab, on the other hand, was quite a nice motor. One of the last of the 'old' 9-3s, it had a good service history, low mileage, was in extremely tidy condition and like many Saabs had two previous owners, both of whom appeared to be called 'Professor'. A good pedigree for any car.
It was also, however, a Saab. Stigmatised by the fact you can't buy one anymore, and that even when you could the parts weren't especially cheap, I wasn't expecting to see buckets of cash. A tidy grand would make me happy, so that was what I put on as a reserve.
Pavel the Gavel, my friendly Polish auctioneer buddy, opened the bidding at £500. A mere Monkey. Nothing… He dropped it to four, three and then two before pointing his hammer at the wall and taking the first bid. They then started to come in thick and fast, another 100 off the rail, 50 off the wall, back to the rail, another bid in the doorway all in a frantic 30-second hustle. Of course, I knew this was how it worked but even then I wasn't quite prepared for the excitement of it all.
After less than a minute, the bidding hit a ceiling of £800 and that was that, so I motioned to Pavel. 'Sell it,' I instructed, deciding I couldn't be arsed loading it on the truck for the sake of 200 notes.
'I can't,' he whispered. 'I haven't taken a real bid yet…'
Clever guys, these auctioneers. Anyone fancy a used 9-3?
Have you filled in our Car Dealer Power survey yet? It's a great opportunity to have your say, and you could win one of seven great prizes! Click here to enter.