THE answer to one of life's most perplexing questions has finally been revealed – thanks to a 'crowd-saucing' campaign by Fiat Professional.
The company polled 1,000 UK professional van drivers to find out which sauce was the more popular companion to a bacon sandwich ahead of a hard day's graft – red or brown – and brown was crowned the nation's fruity favourite, leaving red sauce playing ketch-up…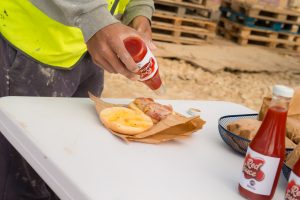 According to the survey data, 40 per cent of van drivers said brown sauce was the daddy, while 37.5 per cent rated tomato sauce as their condiment of choice. The remaining 22.5 per cent of respondents bottled it, saying they preferred their bacon with no sauce at all.

But younger drivers relish the red stuff, with ketchup streaking ahead among those under 30, leaving brown sauce in its wake.
Forty-eight per cent of those under 30 said red was best, with only 30 per cent favouring the traditional brown alternative.
The no-sauce option was more popular among female drivers, with 30 per cent saying they liked their bacon without as opposed to just 19 per cent of male drivers. Of the female van drivers surveyed, 36 per cent preferred brown sauce and 34 per cent preferred red.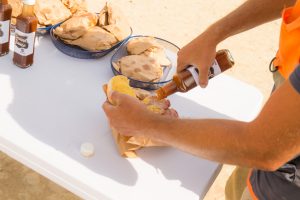 Richard Chamberlain, country manager from Fiat Professional, said: 'Many van drivers like to start their day with a traditional bacon butty, so we've made life easier for the transport cafes and roadside traders that fuel the nation's tradespeople by finding an answer to a question that has divided the nation for years.

'Brown sauce is king, but only by the smallest of margins – although with younger drivers favouring red, it could be that the bottle gets tipped the other way in the not-too-distant future.'
Fiat Professional is the commercial vehicle arm of Fiat Chrysler Automobiles and has four core models in the UK – Fiorino, Doblo, Talento and Ducato – along with a range of approved conversions.
MORE: 'Political climate' sees end to Fiat Chrysler merger move with Renault
MORE: Star and Rockstar specifications added to Fiat 500 range
MORE: Fiat's special deliveries have Christmas all wrapped up!