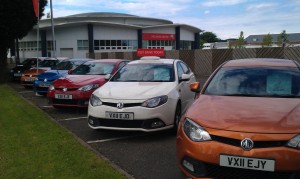 GEORGE OSBORNE'S Budget announcements could mean good news for residual values, according to CAP.
The firm cites 'downward pressure' on the Sterling as being a positive in terms of residual values, relieving fears of new car oversupply.
CAP suggests that 'fears' of oversupply were growing in the industry, with worries that the Eurozone economic crisis might make manufacturers push new car supply harder into the UK.

'From a residual value perspective it is good to have the downside pressure on Sterling increased by the Bank of England and sensible to announce a downgrading of the UK growth forecast to prevent the pound rising,' commented Dylan Setterfield,
'For a while last year it seemed there was a real risk of the slump in registrations in Europe forcing manufacturers to drive supply into the relatively strong UK. Experience has shown us that when registrations approach levels we saw in 2005 to 2007, then residual values are severely weakened by eventual oversupply.
'The prospects of that being repeated have been receding since Sterling began weakening in the 2nd half of 2012. Sterling initially weakened further, as an immediate response to the Budget statement, and although it recovered in the following 24 hours it remains at a level which limits manufacturers' scope for heavy discounting in the UK.
Setterfield says that it's not all good news, though – the Budget announcements simply relieving earlier fears, rather than improving residuals as a whole.

'We will still see forced registrations but the intensity of such activity will be limited to specific manufacturers, rather than an industry-wide trend.
'The Budget can therefore largely be regarded as broadly neutral in terms of its impact on current residual values patterns and those we have previously forecast for the next 3 years.'