WITH the ever-growing popularity of our Women in the Motor Industry (WITMI) breakout session, this year's panel is bigger than ever with a huge range of women working within the sector.
With more than 100 attendees at the breakout session at CDX16, this year's WITMI – held in association with CDK Global – will return with more great panellists, more topics and even more delegates.
We'll also be hosting some of the panellists on the Live Stage at 1.15pm for more people to hear what goes on and for our Woman of the Year to be announced.

Register for your FREE tickets to CDX17 here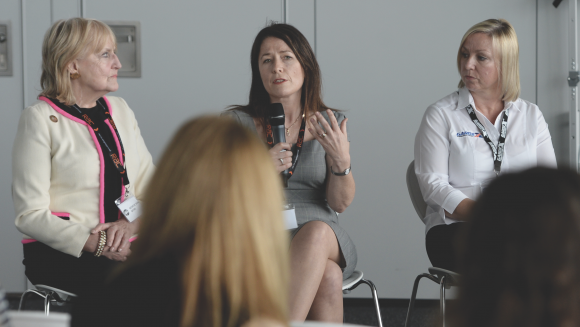 The session began as one solely for women to discuss working in a male-dominated sector, but in 2016 we opened it up to men to widen the discussion of the issues which continue to put women off working for car dealerships.
It's been a sometimes controversial session, but as its support has increased over the years, we've realised it's an important issue that everyone is more than willing to talk about.
Who can you expect to hear from this year?
Julia Muir
Muir, who will be chairing the panel, has more than 25 years experience in automotive retailing and manufacturing. She founded The 30% Club, a group of CEOs and MDs who campaign to close the gender gap in the industry.

Melody Munday
Munday appeared on ITV's Deals, Wheels and Steals after setting up her own car dealership. She will be answering questions on her career and sharing her ideas on the changing attitudes to women in our industry.
Julia Greenhough
Greenhough worked across a number of senior roles in high street retail before joining TrustFord three years ago. Previously with brands such as Virgin Records, Safeway, BHS, Cargo and Argos, she has had responsibility for buying and marketing across a wide spectrum of product areas.
Anita Fox
Fox, automotive client partner for Facebook and Instagram, has worked in several roles in the sector including Jaguar Land Rover and Volvo.
Le Etta Pearce
Auto Trader sales and service director Pearce has been with the company for more than two years but has also gained a lot of experience around the industry, previously working for Manheim and Ford.
Gemma Heathcote
GardX marketing manager Heathcote started there as a graduate and will be sharing her story about how she ended up working with the motor trade and whether it was what she expected it to be.
Why is CDK Global supporting Women In The Motor Industry?
This year, WITMI will be sponsored by CDK Global, who create digital solutions for automotive retailers. Neil Packham, president of CDK International, explained why CDK Global is sponsoring the breakout session.
'CDK Global is a business where diversity matters. When it comes to careers, we know how important diverse backgrounds, ideas and experiences are for delivering world-class service to our clients. Our differences are our strengths. Therefore, CDK is committed to empowering each and every individual to create an inclusive and socially reflective organisation.
'CDK is proud to be sponsoring Women in Automotive. It is a natural progression for us and another way to demonstrate our commitment to supporting women in their careers in the automotive industry.  We aim to help our female employees reach their fullest potential through internal initiatives including staff-led support networks and engagement champions across the business.'
He added: 'The company also has a global resource group called EMPOWER, which focuses on engaging, supporting and providing tools for women to advance their careers. The group holds monthly meetings that focus on professional development and learning, strategic events, corporate branding and volunteerism. The support doesn't stop there, with other sub-groups globally receiving backing, including Women of India, Women in Technology and Women in Finance.'
MORE: CDX17: The top ten reasons you can't afford to miss our industry-leading event!
MORE: CDX17: Three weeks to go – and more than 1,700 delegates have signed up!
MORE: CDX Offers to be launched at 2017 event – Don't miss out on exclusive deals!