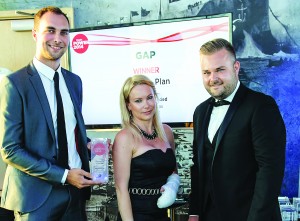 ONE of the winners at this year's Car Dealer Power awards has told of their delight at winning their award.
Car Care Plan was voted by dealers to be the best GAP provider in the marketplace over the past 12 months. Last year's winner, AutoProtect, was highly commended in the category, as was Mapfre Abraxas.
Car Care Plan's chief executive, Tim Heavisides, said: 'Car Care Plan is delighted to be named GAP Supplier of the Year in the Car Dealer Power Awards.

'We know how important it is that cover is comprehensive but simple to explain and Car Care Plan has worked with dealers and customers to develop a range of GAP insurance policies that lead the market. We work closely with Defaqto to ensure that our products are five-star rated and offer customers exceptional value.
'We also help dealers to make the most of their sales processes by integrating GAP into customer propositions and making sure the product is presented openly and transparently. At a time when the market is poised for increased regulation, we're proud to be Car Dealer's GAP Supplier of the Year.'
James Batchelor, editor of Car Dealer, said: 'GAP insurance is a central plank of the finance and insurance offering from many of the UK's car dealers, so this category is always hotly contested.
'In our survey, Car Care Plan's policies won praise for being straightforward to explain to car buyers and offering the right level of cover.'

It wasn't just in the all-important area of GAP that Car Care Plan was recognised – the company was highly commended in the warranties category too.
Batchelor added: 'Car Care Plan are right to be delighted at their success. The Car Dealer Power awards are voted for by dealers and no-one else. To be honoured with a gong shows you're doing a great job in dealers' eyes.'
Our picture shows Duncan Chappell, advertising manager at Car Dealer magazine, right, with Lyndon Phillips and Johanna Rose of Car Care Plan.