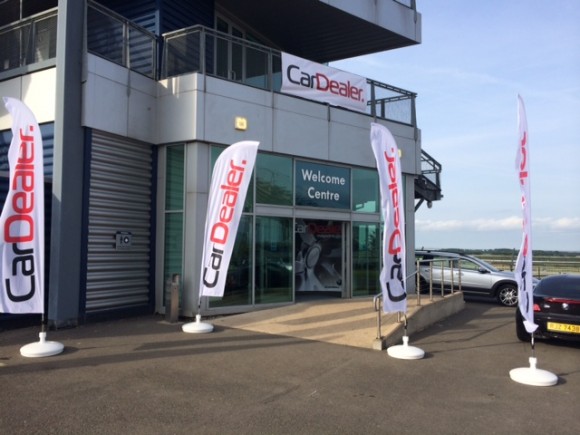 Car Dealer Magazine held its biggest conference ever on Friday at Rockingham Motor Speedway – with delegates enjoying a stellar line-up.
A conference hall packed with more than 40 motor trade exhibitors greeted car dealers when they arrived at the circuit in Corby, Northamptonshire for the Car Dealer 20/20 Vision Conference.
And they were treated to an impressive cast of speakers which included Kia's UK president Paul Philpott, along with experts from Google, Microsoft and many more.

More than 300 dealers attended the event which included special sessions for Future Leaders and our Top 100 Most Influential Dealers on Twitter in the afternoon.
Feedback from delegates was superb and the conference hashtag #CDC14 even started to trend on Twitter – a sign of the popularity of the event.
Car Dealer Magazine managing director James Baggott said: 'We're delighted we could bring together so many dealers, exhibitors and speakers to enjoy a unique opportunity to network and pick up new ideas for their businesses.
'The Car Dealer team and I would like to thank everyone who attended for taking time out of their busy schedules and we're looking forward to building on this year's success in 2015.'

Here's what some of those who attended the event had to say on the social media network:
Here's a screenshot of that Twitter trending from the boss…
This is impressive. Our @CarDealerMag conference is trending on Twitter! #CDC14 pic.twitter.com/nDTe8MKw4R

— James Baggott (@CarDealerEd) June 20, 2014
This selfie was taken 'Oscars style' by GForces as they spoke to our Top100 Most Influential Dealers on Twitter…
@G_Forces capitalised on #cdc14 trending by posting group selfie! pic.twitter.com/nHuOPKDoTG — James Batchelor (@JRRBatchelor) June 20, 2014
Mike Hind from CAP seemed to enjoy the day…
Well done to @CarDealerMag team for putting on a cracking morning of thought-provoking speakers for #CDC14 Not just your average conference — Mike Hind (@MikeH_CAP) June 20, 2014
Chris Green was impressed by the turnout and the agenda…
Incredibly well turned out event with a massive amount of exhibitors too @CarDealerEd #CDC14 looking forward to the day !

— Motoring.co.uk (@ChrisCarsGreen) June 20, 2014
Chris Learmouth enjoyed the day and even snapped our editor on stage…
Good day today at #CDC2014 lots of great presentations #worthit @CarDealerMag pic.twitter.com/k9Cri8BeIP

— Chris Learmonth (@LearmonthC) June 20, 2014
Exhibitor Wraptition changed this Jaguar from black to grey in front of delegates…

Great day at the @CarDealerMag conference at @RockinghamSpeed @Jaguar xf wrapped in @ADgraphics_EU swf gunmetal pic.twitter.com/BzWEuk9zyu

— Wraptition Ltd (@wraptition) June 21, 2014

Some of the exhibitors, like Manheim, even had some fun and games for delegates to take part in…

Lots of fun to be had with @CarAuctions_UK, along with products & services to maximise vehicle profitability #CDC14 pic.twitter.com/UrKVdyoA8C — Car Dealer Mag (@CarDealerMag) June 20, 2014
The Expo area was full of dealers doing business with exhibitors – and enjoying the free refreshments…
Busy busy in the expo area. Keep the tweets and photos coming using the #CDC14 tag pic.twitter.com/ybCq0NFyvD — Car Dealer Mag (@CarDealerMag) June 20, 2014
And this Vine from the boss shows just how busy the Expo was…
Welcome to the #CDC14 Car Dealer Conference. Here's a quick look at the expo area https://t.co/QSTsrmpbbR

— James Baggott (@CarDealerEd) June 20, 2014
While upstairs a separate room hosted our speakers, including Google's Scott Sinclair…
And our final speech of the morning session comes from Scott Sinclair @sinclair300584 from Google! #CDC14 pic.twitter.com/RUTdpVphAd

— Car Dealer Mag (@CarDealerMag) June 20, 2014
And the day certainly impressed the attendees, such as Dews Motor Group…
Some great presentations so far @PhilipN_CAP @CarDealerMag interesting insights pic.twitter.com/gxMnasifs0 — Dews Motor Group (@DewsMotorGroup) June 20, 2014
And Jim Reid…
Well done to the @CarDealerMag team for running such a successful event today #CDC14 Always very friendly and never intimidating #welldone — JimReidVehicleSales (@jimreidvehicle) June 20, 2014
And Inchcape…
Wow. What a great day we had at #CDC2014 – thanks for having us. Some great speakers and valuable information learnt!! #inchcape

— Inchcape Used Cars (@InchcapeUsedCar) June 20, 2014
And Swann Automotive…
Woohooo!! We're back in #York from a fantastic #CDC14 after being stuck in extremely slow moving traffic but well worth it.

— Jay at Swann's (@SwannAutomotive) June 20, 2014
And Harwoods…
Some great speakers so far. Very busy day and some great content. #CDC2014 pic.twitter.com/q50Kvl3J6b

— Harwoods Group (@HarwoodsGroup) June 20, 2014
And even dealers that couldn't be there wanted to get in on the action…
Who else is Billy no Mates and not at #CDC14 like me, deffo going next year! What about U @motorhappy? @CarDealerMag pic.twitter.com/XMkdzlyDGw

— Giles Usher (@cars_portsmouth) June 20, 2014
As Giles said, make sure you're there next year…
A full report on the Car Dealer 20/20 Conference will appear in the next issue of Car Dealer Magazine and check the website next week for a gallery of pictures.