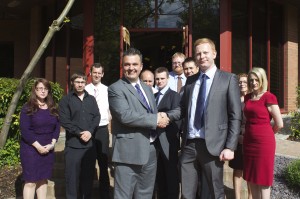 SWINDON and Dursley were the big winners at CCR Mitsubishi's annual dealer conference.
The Swindon dealership scooped the dealership of the year award at a ceremony at the Marriott Hotel in Swindon for CCR Mitsubishi, which has 11 outlets across the south of England.
Dursley Mitsubishi took three titles, being named sales department of the year, while David Facey won sales executive of the year and Wayne Ball was crowned technician of the year.

Melksham Mitsubishi took the prize for after sales department of the Year.
Tim Bagnall, managing director of CCR Mitsubishi, said: 'It wasn't an easy decision picking the dealership of the year because they all work hard and so many of them have done a great job.
'But Swindon Mitsubishi went that bit further and they are worthy winners. All those who received an award should be proud of themselves. We are lucky to have a great team across our dealerships and this ceremony was our way of saying thank you.'
Andy Jackman, brand manager at Swindon Mitsubishi, said: 'It's great that we have been named dealership of the year and it's a reflection of the hard work that the whole team puts in on a daily basis. I'm really proud of what we have achieved in the last year and we're looking forward to a great 2014.

The other winners at the event included Amanda Hatfield, from the group's head office in Cheltenham, who won an administration award.
Leigh Gue, from Cheltenham and Gloucester Mitsubishi, was named most improved team leader, while Malcolm Mackie, from the same dealership, was named most improved sales executive.
Simon Millard, from Cirencester Mitsubishi, was named most improved technician, while his colleague Caron Lawrence was named most improved after sales adviser.
In our picture, CCR Mitsubishi managing director Tim Bagnall (front left) is seen with Swindon Mitsubishi brand manager Andy Jackman and the rest of the Swindon Mitsubishi team.