A KEY element of the Car Dealer Conference and Automotive Expo last year was our hugely successful Women In The Motor Industry breakout session – and we're delighted to announce that it's returning for 2016.
Hosted by ITV4's Louise Goodman, the 2015 WITMI session saw four influential female speakers addressing women who work across all areas of the automotive and motorsport worlds.
Our panel of key figures, including award-winning rally driver Sara Williams and head of dealer finance at Black Horse Nagla Thabet, played a vital role in making the session a resounding success.

Like-minded women and organisations were able to share ideas, discuss topical developments and inspire a new generation.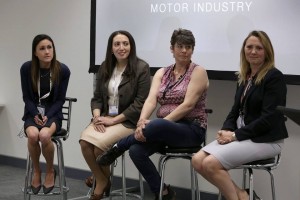 This year, at CDX16, which takes place at Silverstone on Tuesday, May 24, WITMI is back once again. Only this time, it's set to be bigger and better than before.
Our guests will still have the opportunity to question a line-up of influential women working in various sectors of the male-dominated motor industry. But we've got some exciting plans that we'll be announcing very shortly that'll make it even more of a must-attend event.
Watch this space for instructions on how to sign up, get involved and join the conversation.

In the meantime, why not have your say on social media? To start a new topic for discussion or list your ideas or potential discussion topics for the event, tweet us at @CarDealerMag using the #WITMI and #CDX16 hashtags.
Alternatively, you can email session organiser Sophie Williamson-Stothert, Car Dealer Magazine's features editor: [email protected]
CDX16, to be held at Silverstone on May 24, 2016, will be spread across three halls and packed with information for delegates to better their businesses, learn about new products and hear from key speakers.
Find out more – and register for your FREE tickets – via the links below.
MORE: Gemini Systems: Why we're delighted to be involved in CDX16 again
MORE: Free registration is now open for CDX16
MORE: Government Minister gives her backing to CDX16
On SuperUnleaded.com: This X-Trail Snowmobile Is All Kinds Of Awesome