AS more and more people express an interest in electric cars, one dealer group is experiencing phenomenal demand for emission-free motoring.
The Alan Day Group has seen incredible pre-order sales as it prepares to launch the hotly anticipated Volkswagen ID.3 range.
VW supplied 1,500 cars to the UK market and the Alan Day Group sold their allocated 35 within an hour despite customers having only seen pictures online.

The remaining allocation sold out in 48 hours, crashing the pre-order website in the process.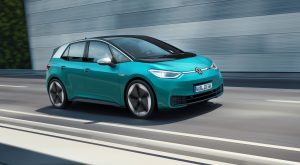 Nick Wells, head of business at Alan Day, pictured, believes the new range of electric vehicles will tempt even the most staunch petrol-heads to make the switch.
He said: 'The ID.3 range is VW's best electric vehicle yet. It will have the turning circle of an Up!, the cabin space of a Passat saloon and the acceleration of Golf GTI.
'To sell 1,500 from a range that hasn't even hit the market yet is unprecedented and suggests we are on the cusp of an electric vehicle revolution!'

The figures back this up and with another 20,000 people already on the waiting list, demand for electric vehicles appears to be at an all-time high.
Wells, 44, who as just celebrated 20 years service with Alan Day, attributes the massive spike in demand to customers being more eco-aware and wanting to contribute towards reducing carbon emissions.
Green initiatives
He also highlighted the rapid technical developments being made, adding: 'VW electric vehicles have come a long way in an incredibly short space of time and depending on what battery pack you have, users will have a usable range of 280 miles which is more than most customers would drive on any one day.
'Now people can jump in the car and go without having that range anxiety.'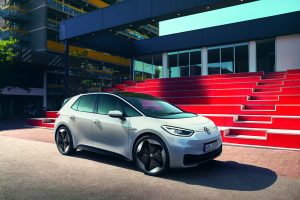 The drive towards the electrification of the industry has become more intense since the government brought forward a sales ban of new petrol and diesel cars by five years, to 2035 rather than 2040 as initially planned.
Volkswagen are the only automotive manufacturer that signed up to the Paris accord and the Alan Day Group is driving green initiatives across all their showrooms.
Their sites in West Hampstead, New Southgate and The City have already introduced several sustainability measures to reduce their carbon emissions. 

One of the biggest changes, however, has been a shift in attitude of Alan Day employees – many of whom are self-proclaimed petrolheads – towards electric vehicles.
Wells added: 'More and more of our staff themselves are moving into electric vehicles, which is quite interesting to see because typically, the motor trade attracts petrolheads.
'For example, our service manager is a 30-year-old guy and I guess part of his dream when he became service manager was to be driving a sporty, big-engined car.
'But one day he borrowed an electric Golf and now he won't drive anything else. Once people try it, they don't go back!'
MORE: Zoe still the fastest-selling used car
MORE: Volkswagen announces pricing and specification for T-Roc cabriolet