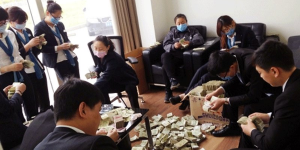 A CUSTOMER stunned staff at a BMW dealership in China… by using 100,000 bank notes in part-payment for her new BMW 730Li.
It took 20 staff at the dealership in Zhengzhou six hours to count the money, worth about £10,600.
The unnamed buyer, who owns a food retail business, paid the rest of the cost of her car, which cost one million yuan (£107,000) with her bank card.

The buyer was reported as saying that people often paid her using notes of small denomination, such as the one-yuan examples she handed over for her car.
And she added that as she was often busy, she decided to accumulate them until she was able to spend them all at once, reported the website Business Insider.
Li Moran, general manager of the car dealership, said it was the first time he and his staff had had to count such a large amount of cash.
He told the website Eastday.com: 'I have read in the media that some people like to use small-value bank notes to buy cars but I never imagined I would experience this kind of thing myself.'

MORE: Clocking is back, but dealers are the victims this time
MORE: Huddersfield dealership has a new man at the helm
MORE: New Mitsubishi dealership opens in Salisbury
On SuperUnleaded.com: Man ditches old minivan, takes it to the scrapyard on his trike