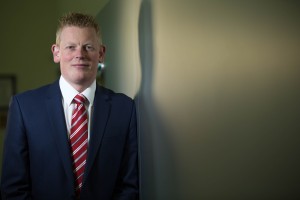 A VOLKSWAGEN retailer in Huddersfield has a new man at the helm who aims to steer the company to even further success.
Steve Jenkins, 36, is a success story in his own right within the company as he has risen through the ranks to become the brand manager at Sytner Volkswagen Huddersfield.
He started with the group in 2003 as a sales executive and worked at Sytner's Audi site in Wakefield, becoming a sales manager in 2006.

This new role is the first time Steve has worked at the Huddersfield site, in Leeds Road, and he aims to push the retailer to further success by making customer care a top priority.
Steve, from Lightcliffe, Halifax, added: 'At Huddersfield Volkswagen, we aim to deliver the best possible service every day and make a visit for our customers both memorable and beneficial.
'We survey every customer to ensure we are meeting their needs and use this feedback to guide the on-going training and development of our dealership team. During the last three months, the team at Huddersfield Volkswagen has scored a 99 per cent positive response in our survey, which is fantastic, but we can still push for 100 per cent.'
Sytner Volkswagen Huddersfield stocks a full range of new Volkswagen cars and a wide range of Approved Used Volkswagen vehicles as well as offering a full range of Volkswagen aftersales services.

MORE: New Mitsubishi dealership opens in Salisbury
MORE: Car output grows in March as productivity hits an all-time high
MORE: How quick thinking came to the fore when I sold a lovely old jag
On SuperUnleaded.com: The best rally car crash saves from around the globe