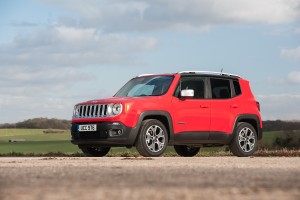 THE resurgence of the Jeep name is the main reason why sister brand Chrysler is being withdrawn from the UK.
Car Dealer reported earlier this week that Chrysler will have vanished from the UK automotive scene by 2017, a decision reportedly taken because of the brand's limited product range and poor CO2 emission figures.
Chrysler suffered from dismal 2014 sales in the UK, dropping below 2,000 units sold. Last month the manufacturer sold a paltry 12 vehicles in the UK and the total for 2015 was just 69 units, less than half the figure for the same period last year of 181.

Steve Zanlunghi, managing director of Fiat Chrysler Automobiles in the UK and head of the Jeep brand for Europe, the Middle East and Africa, shed a little more light on the situation when we caught up with him this week.
He told us: 'We looked at the business case of all our brands, how they fit together in the UK. We thought there was a better business case to take the resources that were with Chrysler and put them over into Jeep. It's that simple.
'We have more opportunity with all the new products we have coming out in the near term that are going to make waves for Jeep. That was pretty much it.'
Asked how long it took to reach the decision, Zanlunghi said: 'It took a while because there was a certain amount of going back and forth. We had Detroit involved and also Turin involved.'

Turning to Jeep, he said there were 'good days ahead'… and told us: 'I've been with Chrysler for 18 years and a Jeep fan for 25, so this isn't just a job, this is an honour for me.
'Other than a 20-month period of my career, I've always worked in the markets with dealers. I know the importance of dealers to the business.
'Without the dealers, who's going to sell the cars? We put a lot of focus on our dealers because if the dealers aren't healthy, they're not going to invest in their businesses.'
Jeep is hoping to sell 10,000 vehicles in the UK this year, with the company's new B-segment SUV, Renegade, playing a key role in the company's resurgence.
It's a car that marks a series of firsts for Jeep. It's the manufacturer's first entry into the small SUV segment; the first Fiat-Chrysler car to be jointly developed by Italian and American engineers and the first Jeep to be built in Europe but sold in the USA.
Jeep Renegade is reviewed in the April edition of Car Dealer, out on Monday, March 23. To get your copy call 023 9252 2434.
MORE: Latest figures reveal a £59 loss for car dealers
MORE: Selling price of part-ex vehicles up in February
MORE: Auto Trader valued at £2.35 billion
On SuperUnleaded.com: Forget the i3, BMW's first electric car is much cooler